Jess and Daniel first met in college and have been together ever since.
In 2018, close to Christmas, Daniel surprised Jess by proposing at Disneyland Paris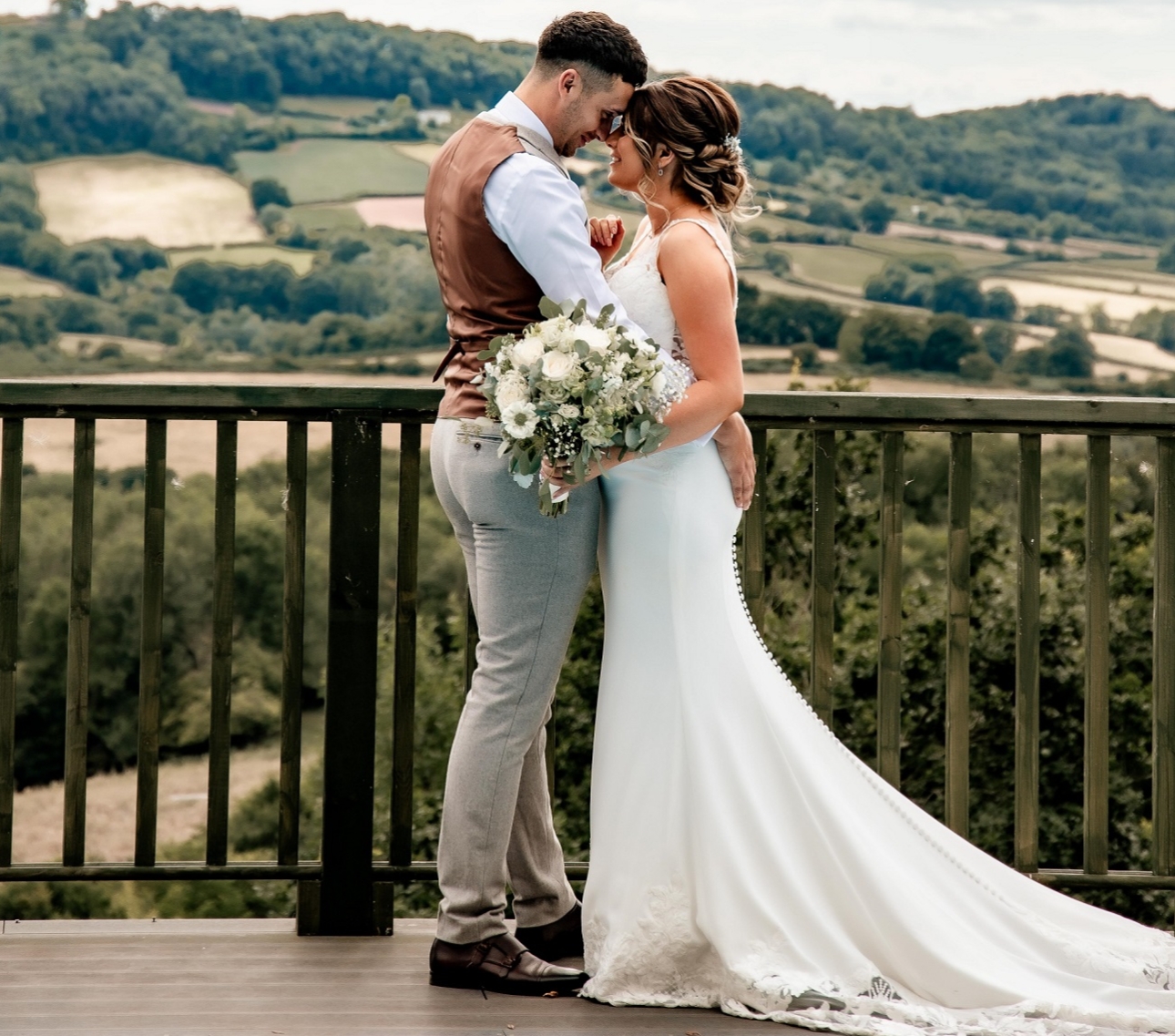 "How our daughter kept it quiet, I'll never know!"

Here she shares some of her favourite moments from their big day...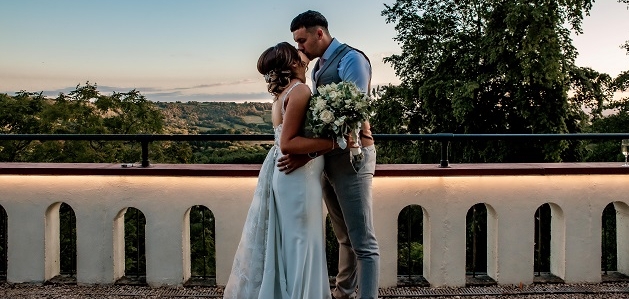 We booked Caer Llan because the views were incredible, and we loved that we could get married outside. We also really liked that we had exclusive use of the property.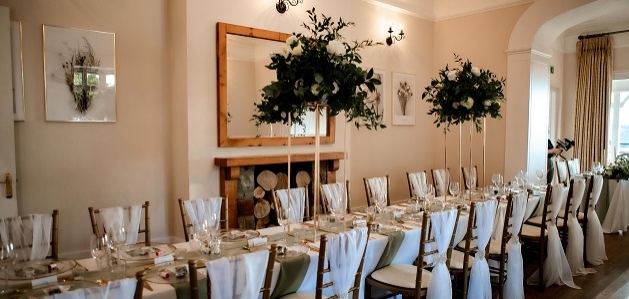 We chose different centrepieces for each table; two had large gold stands with blooms from Catherine Gray Flowers on the top, the others had gold cluster candelabra, and the top table had candles with a floral garland.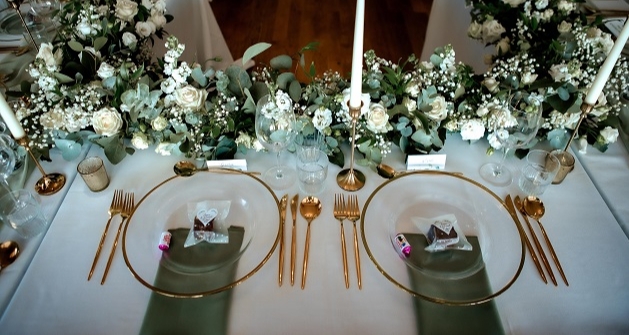 For our favours, we gave our guests personalised love heart sweets and chocolate brownies that Daniel's mum made.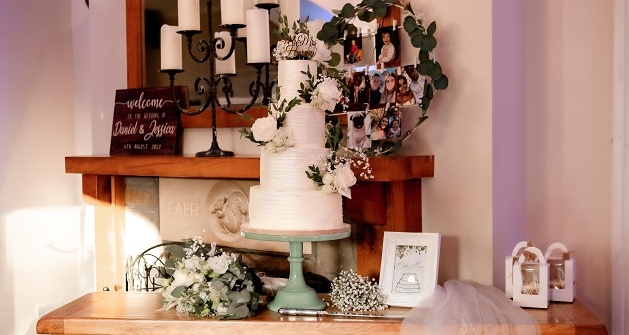 Our cake was a four-tiered design from The Pocket Bakery that was covered in pearl buttercream and flowers that were left over from our floral arrangements.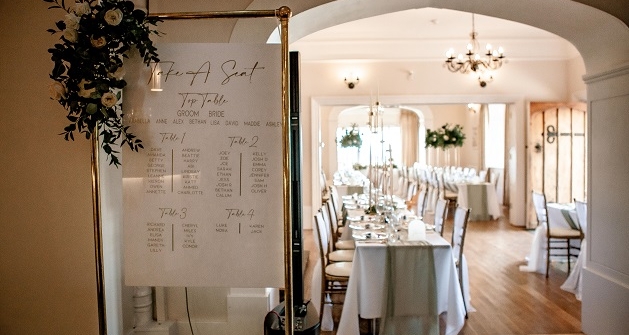 Our table names and table plan were made from acrylic glass stands, and the place names were folded cards with a eucalyptus design.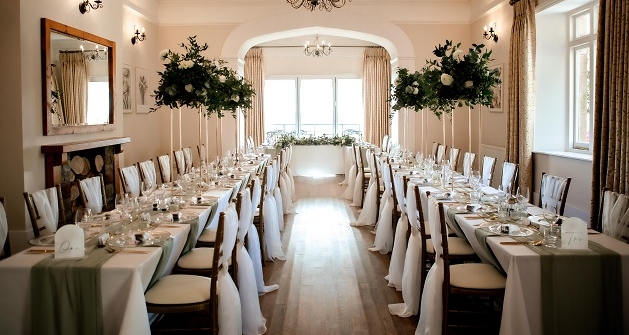 Caer Llan has its own chef, so we opted for a three-course sit-down meal with a hot buffet in the evening.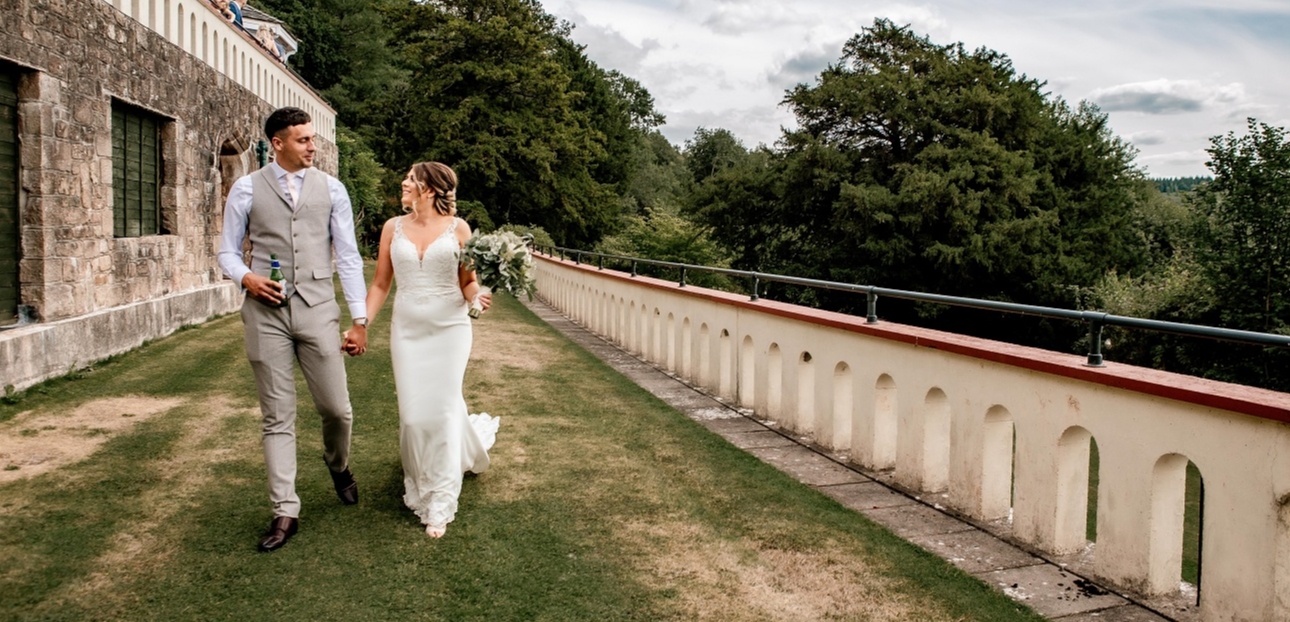 I wore a Justin Alexander dress called Alivia from All About Eve Bridal. It was a crepe dress, which I chose because the back was a showstopper, and I knew I wanted something that stood out when I walked down the aisle. I also love the details on the front of the dress; it was simple with a bit of sparkle! I accessorised a veil that matched my dress.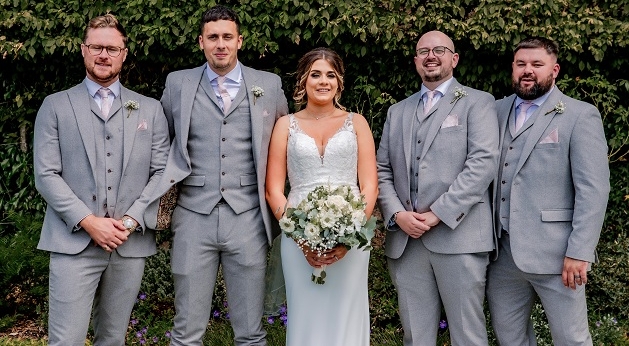 Daniel and the groomsmen opted for grey matching suits from Slater Menswear.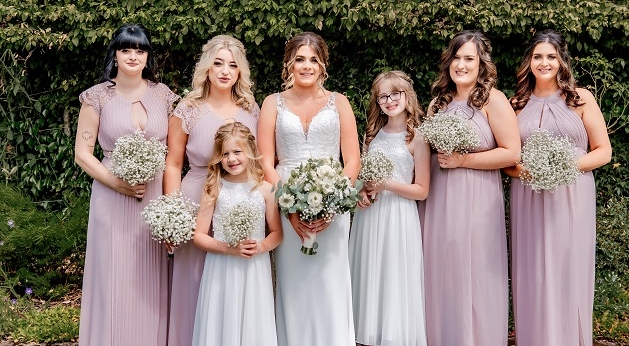 The bridesmaids chose a pink dress in two different styles from ASOS; one had short lace sleeves, and the other was a halter neck.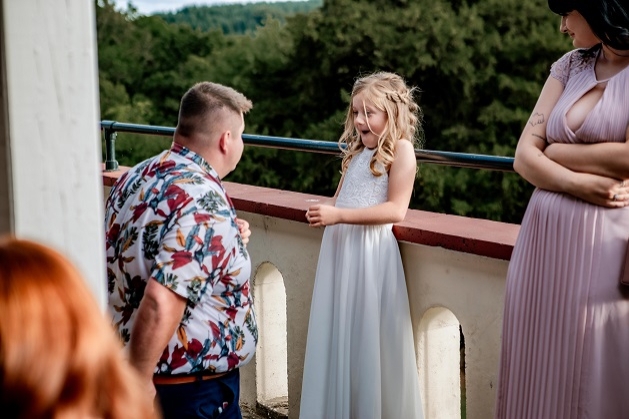 We had magician Adam James Reeves entertain our guests in the evening. We won his services in a competition that he did during lockdown. Adam had been at a few of our friend's weddings, so we knew he was going to be a big hit, as everyone already knew how amazing he was!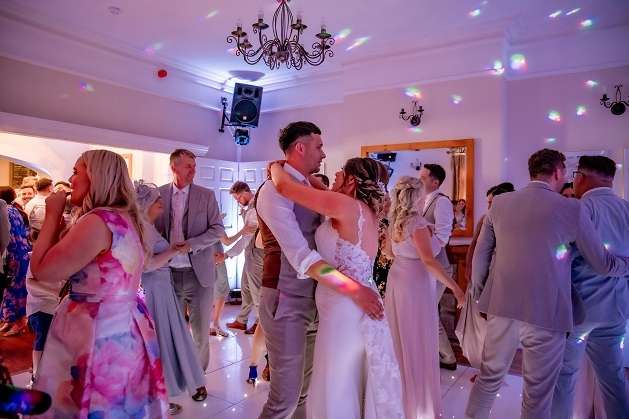 Banwell Wedding Services provided a DJ and magic mirror in the evening, which everyone loved.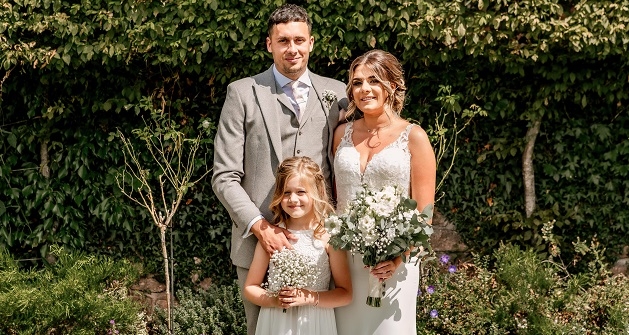 Our seven-year-old daughter gave a speech which included a poem, and we were so proud that she was confident enough to stand up in front of 60 people.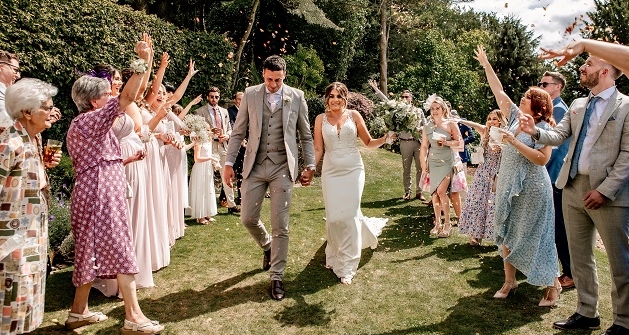 We felt incredibly lucky on the day and were so pleased that we could celebrate with our friends and family.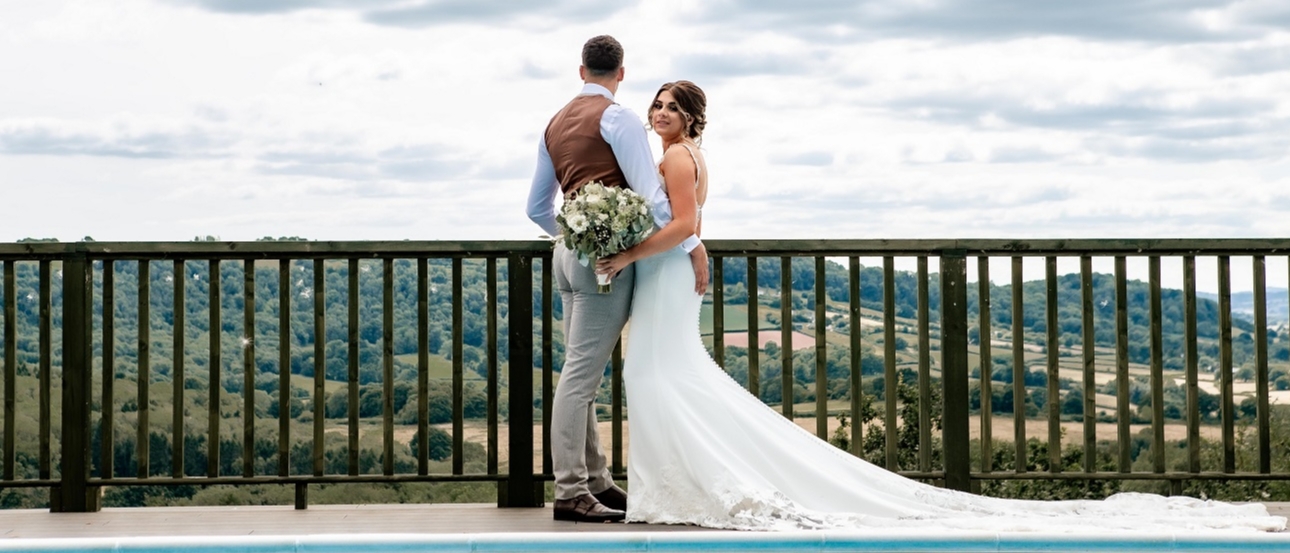 My main piece of advice for anyone about to get married is to take a few minutes away from your guests to just sit down with your partner and take it all in. We did this when the room was being changed around ready for the evening guests, so not many people noticed we had stepped away. It was lovely to just sit down together and talk about the day so far.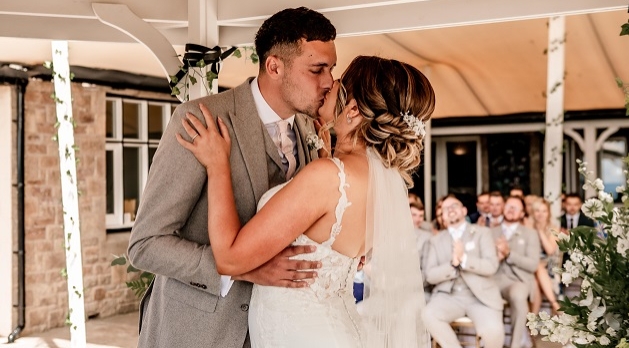 I actually dropped Daniel's ring when trying to put it on his finger, and it nearly fell down a gap in the floor! Luckily my dress was so big that it covered the gap and landed on that instead!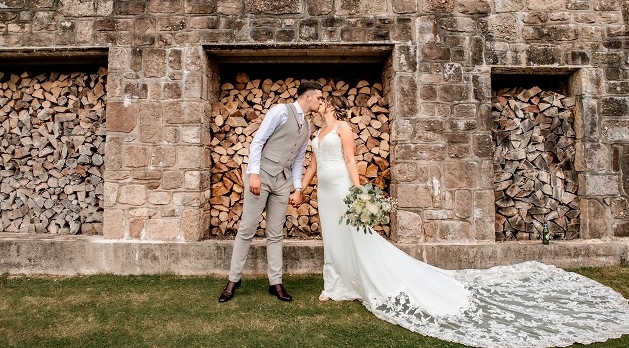 We are going on our honeymoon in November to San Francisco and Las Vegas. I found an amazing deal, so we didn't mind having to wait three months to go.
Jess and Daniel's contact book