Jules and Gary met at school, but there certainly wasn't an initial attraction! "Gary was loud, obnoxious and argued with the teachers," says Jules.
"After sixth form we lost touch, not catching up until we found ourselves in the same school Facebook group nine years ago. By then I was a single parent, and Gary was married to his lovely wife. Tragically, she died of cancer a few years later, and our Facebook group rallied round to help Gary though this terrible time.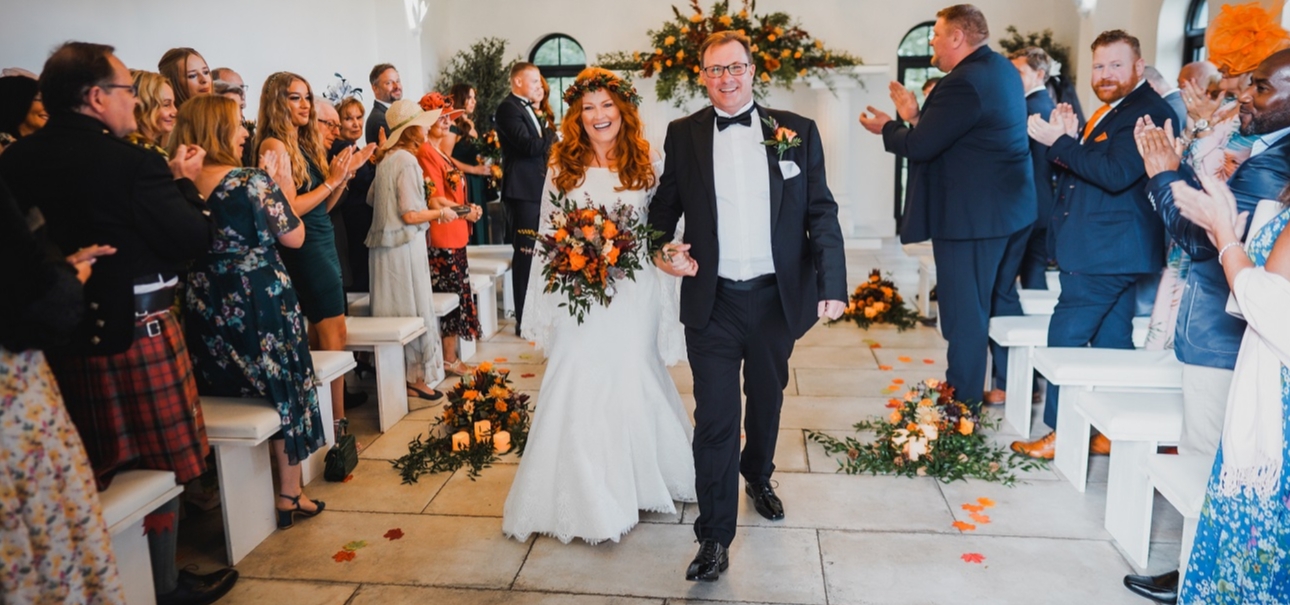 "Months passed, and Gary's posts showed him slowly emerging from his grief, going to the odd gig or solo holiday. One night I was sitting down with a glass of red when a message from Gary popped up on my phone. 'You cheer me up with your banter and make me laugh, which is something that doesn't come easily,' it read. 'I'm in Sunderland soon – would you like to meet for a drink?' Aged 50, I couldn't fathom whether I'd been asked out on a date, so had to check with my daughter! We met the next week, and Gary relocated to Sunderland from Scotland six months later."

Gary popped the question on Christmas Day, 2021, in front of Jules' kids and grandchildren. Setting the date of 26th September, 2022, they chose Woodhill Hall as their venue.

Here, Jules tells us more about their day...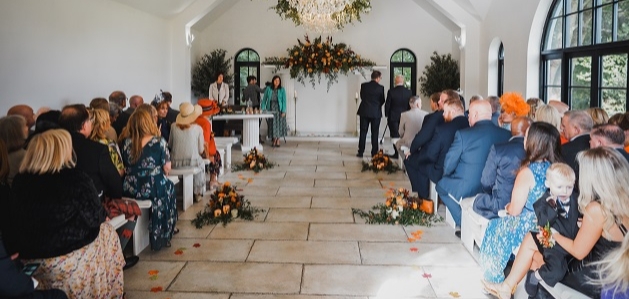 Woodhill Hall ticked all our boxes, and The Olive House is a beautiful choice for ceremonies.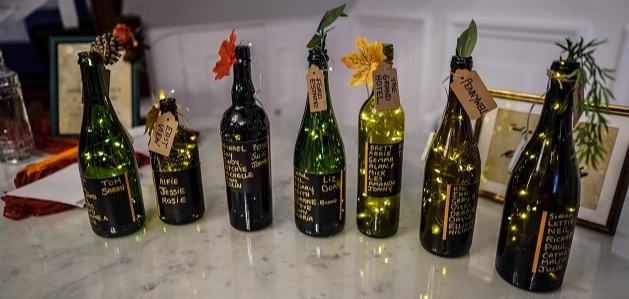 I'm a crafter, so for our table plan recycled wine bottles with new labels and fairy lights with our guests' names on.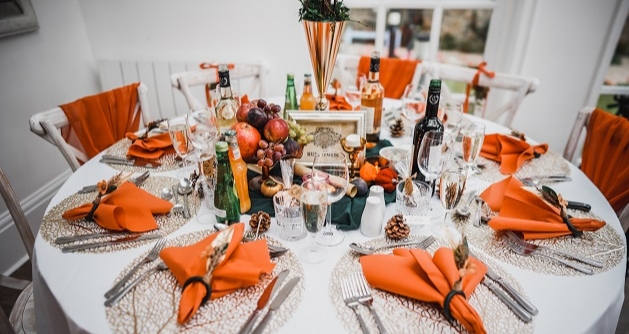 My brother, who passed away 13 years ago, spent most of his life in Holland. Orange is the region's national colour, so in honour of him the colour became the theme to our day.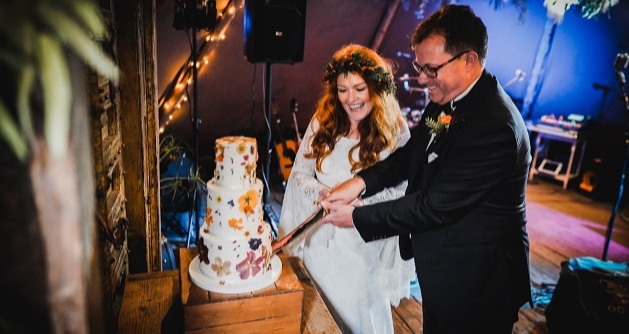 I sent our cake-maker pictures of what we wanted, and she certainly delivered. The cake, like a lot of the day, was bohemian and autumnal.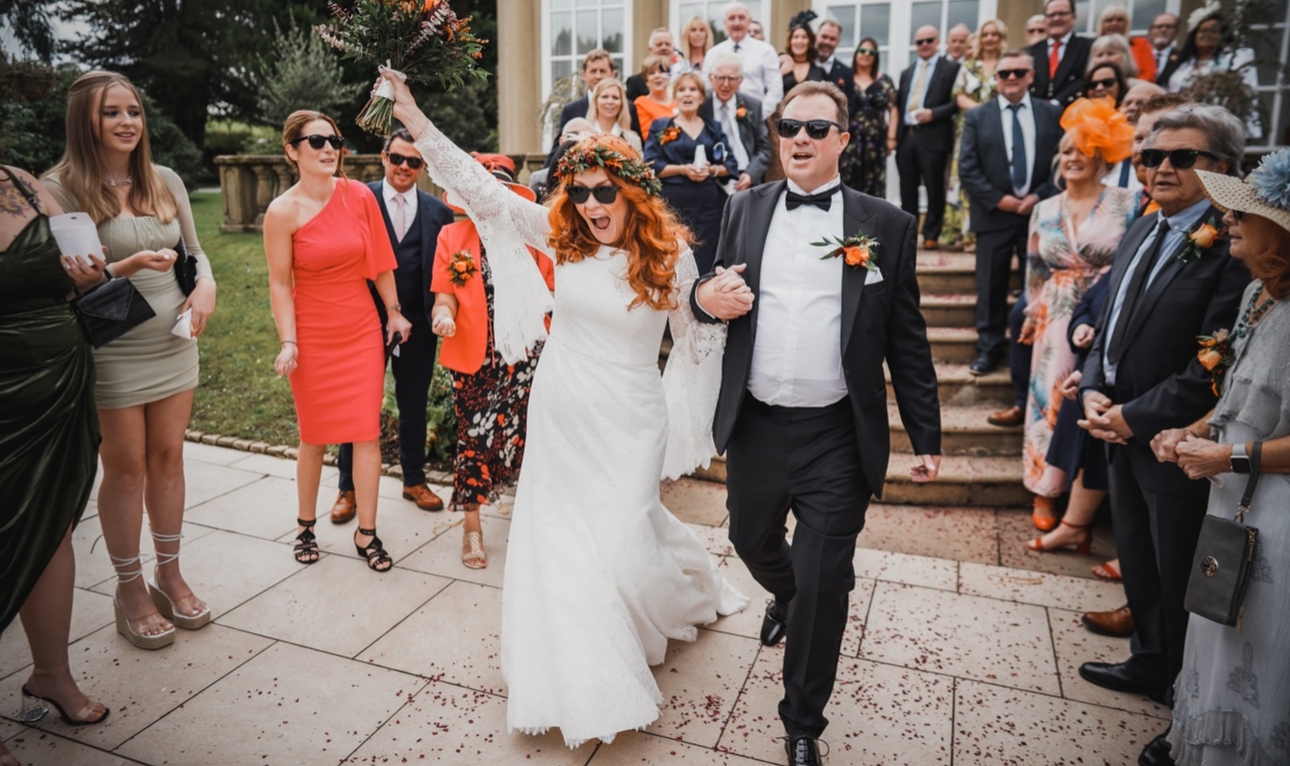 Looking online at local dress suppliers, I could see there was nothing 'me'. I turned to The Little Seamstress, who designed my incredible bespoke gown.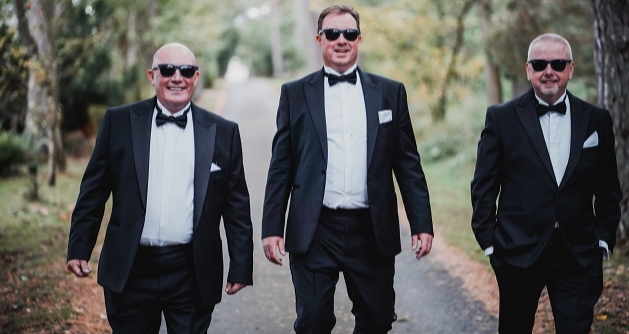 Gary's more traditional, so he chose a tuxedo, along with his groomsmen. I loved how our outfits summed up our personalities – me all bohemian and Gary all business!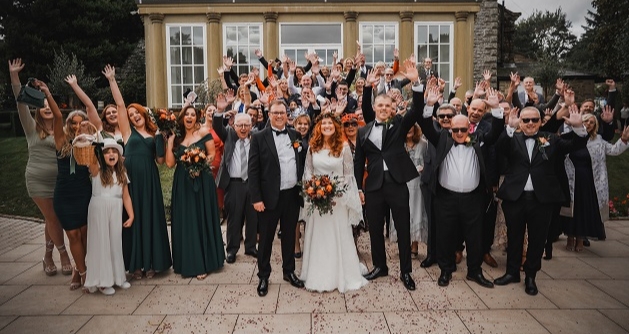 My bridesmaids wore forest-green gowns, as it's one of my favourite colours and complemented our theme perfectly.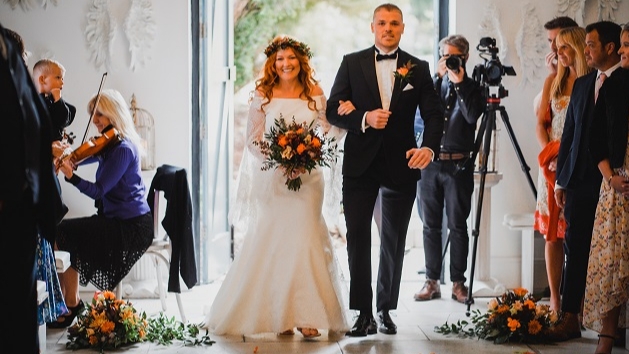 We hired a fantastic string quartet, who began 15 minutes before the ceremony and played the entrance song, register signing and exit song.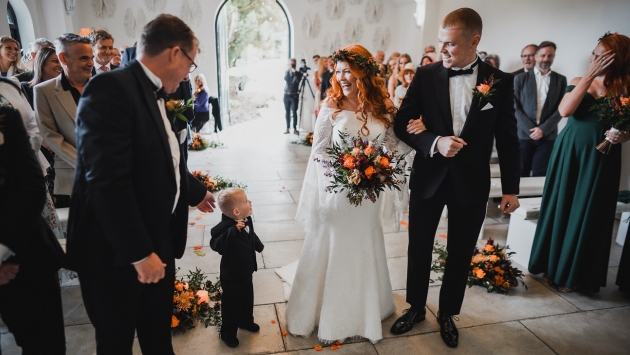 As my son walked me down the aisle my two-year-old grandson, Max, followed in fast pursuit! The photos of him standing with us as we're about to get wed are hilarious!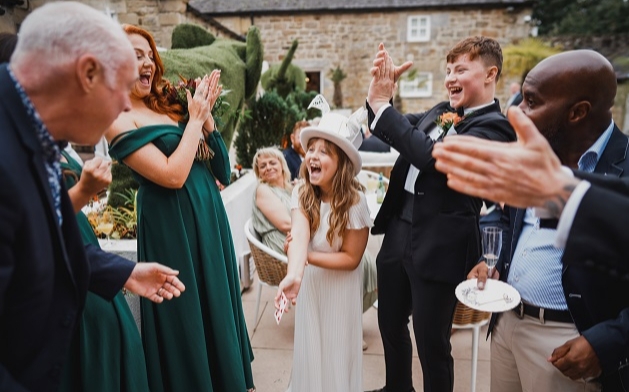 Our magician, Martin Duffy, was a hit. He had the kids mesmerised – as you can see in this photo!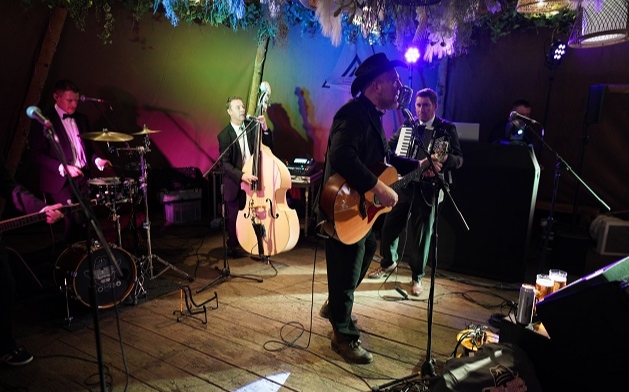 For the evening we also hired the band, Big Red and the Grinners. I saw them at a festival and fell in love with their style and professionalism.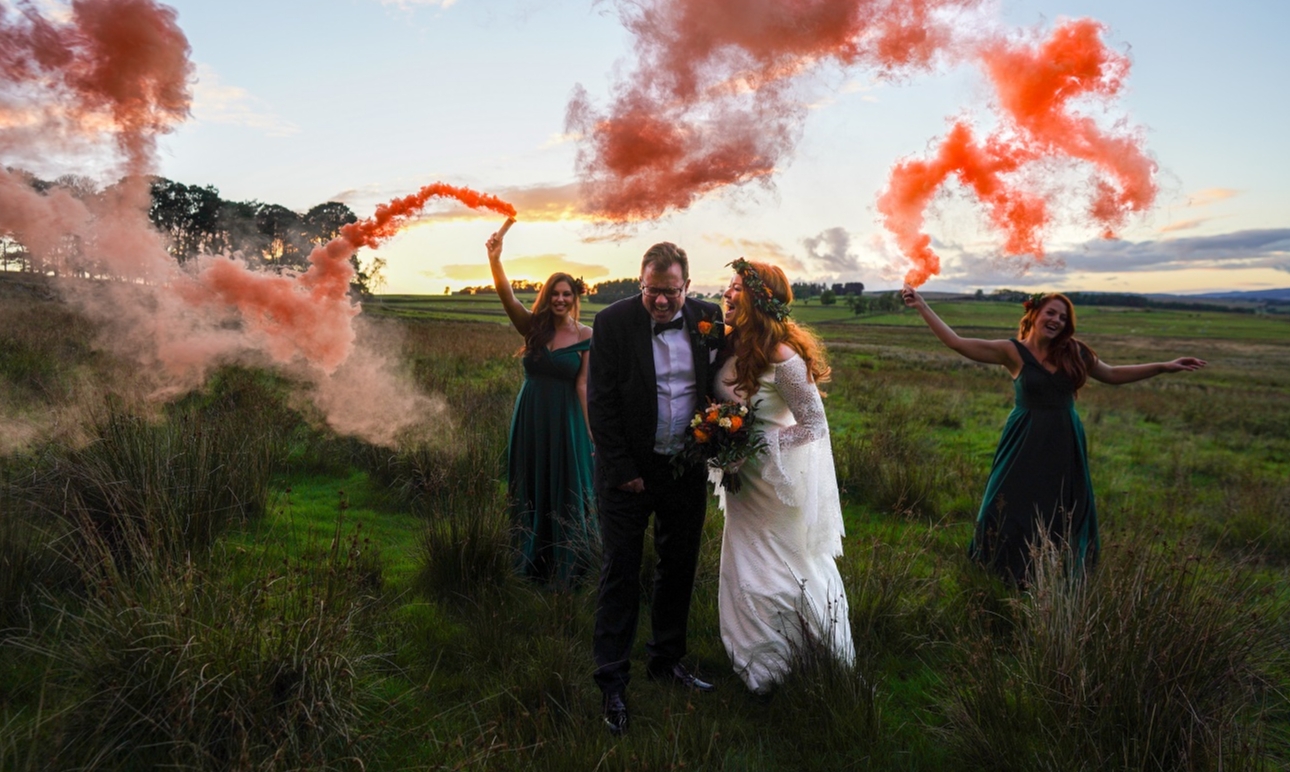 A memory I'll never forget is when the photographer and videographer took us, our bridesmaids and a few friends to some nearby fields to sing, dance and run about with smoke bombs!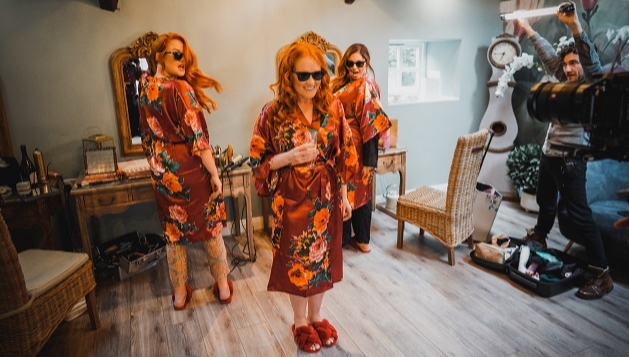 We were so blessed with all our suppliers, including the video guys, who we had such a laugh with on the morning of our wedding filming our Eighties spoof music video!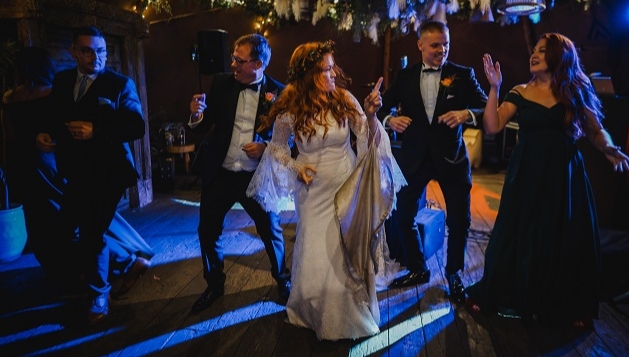 After two sherries I forgot all about the dance sequence I'd planned last minute. Gary just went for it, while I encouraged everyone to join in!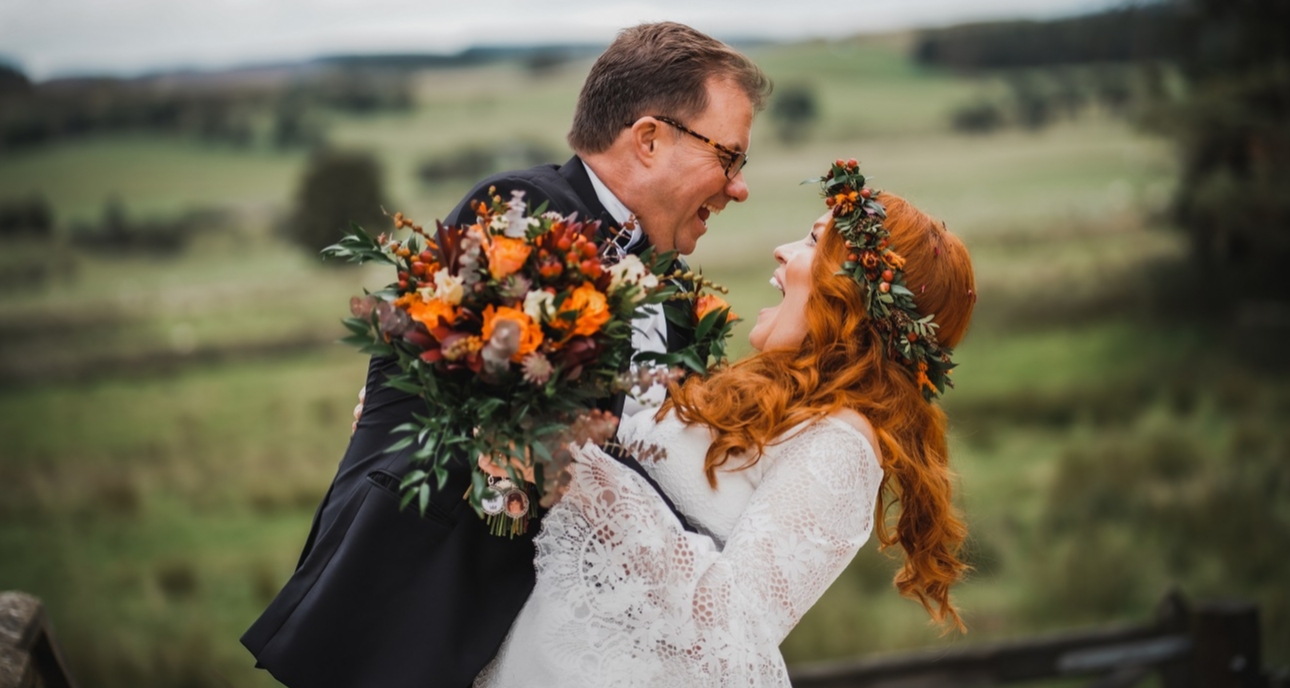 Leave all the worries and nerves at the door when you walk down the aisle. Look at your partner, focus on each other – and just go for it!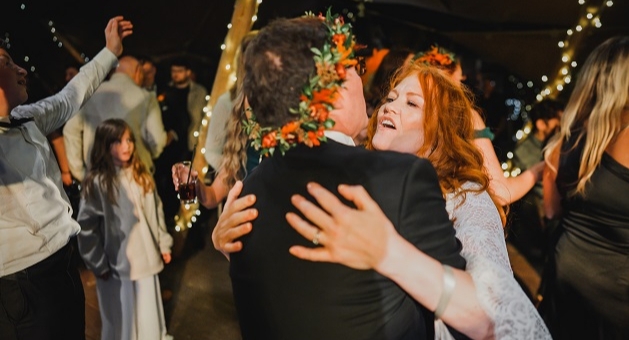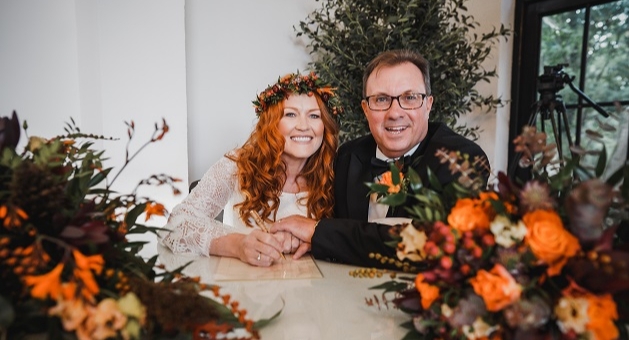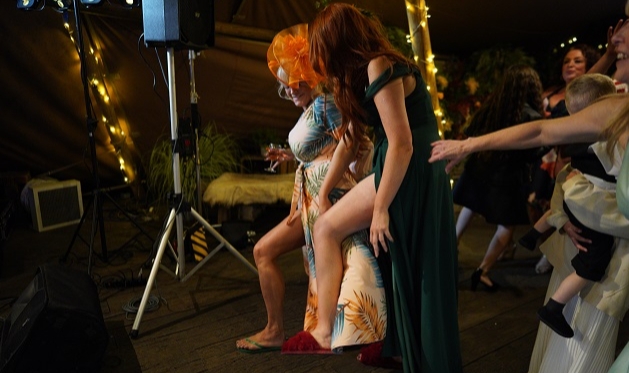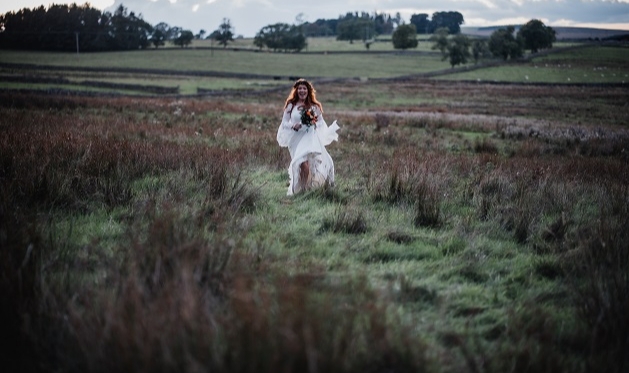 Jules and Gary's contact book