Grace and Sean enjoyed their rustic-styled celebrations at Cattows Farm.
Working in the same department had its perks for Grace and Sean. "We both worked at British Airways in London. After a few tea breaks together and walks around the office, we knew there was a spark," says Grace. They arranged their first date at Grace's favourite pizza place and afterwards enjoyed drinks in a cosy pub. "We had a lovely night and had already planned our second date by the time the food was ordered!"

Sean proposed on August bank holiday, 2017, and they tied the knot almost a year to the day. "We'd spoken a lot about our future and we both knew we wanted to get married, but it was a complete surprise when he asked," she says. Grace loved planning their day – here she shares all the details…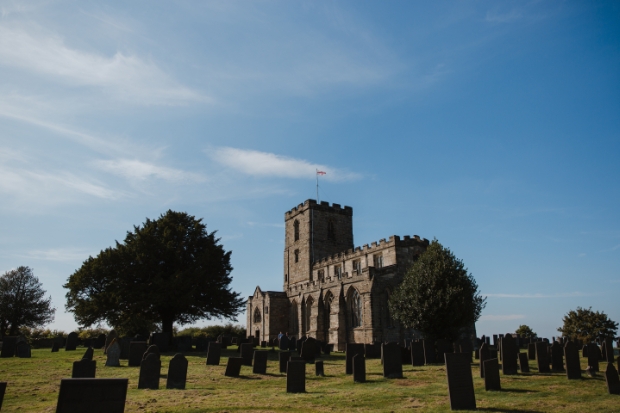 We got married in the village where I grew up. It's a beautiful old church in lovely surroundings on top of a hill.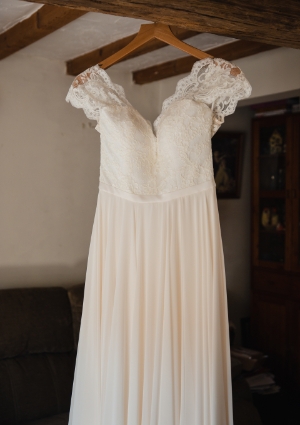 I chose the first dress I tried on. I loved how graceful it was but that it also had a relaxed feel about it, which went perfectly with our day.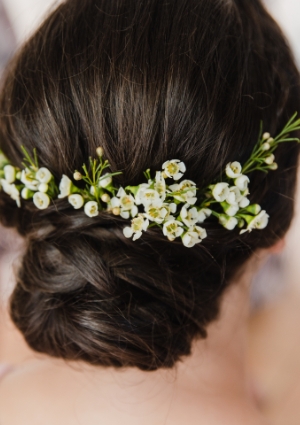 I wore my hair in an up do that was accessorised with flowers. I opted for natural make-up – Stacie from Kate Attwood's salon is an amazing stylist!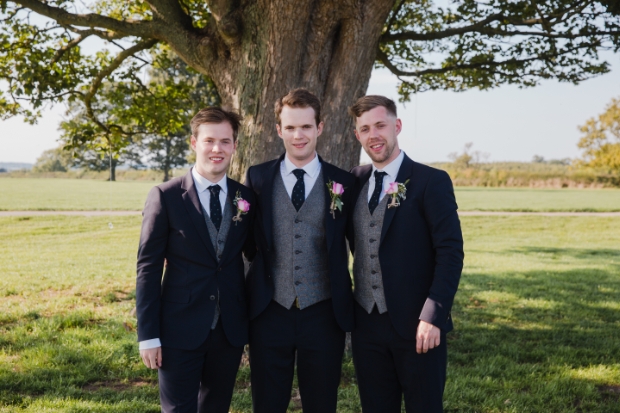 Sean and his best men, Liam and Padraig, wore Paul Smith suits with tweed waistcoats and wool spotty ties. Once Sean had found the suit he relaxed and enjoyed finding the accessories.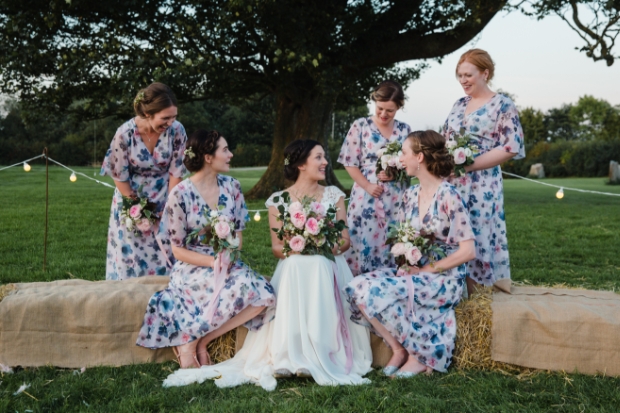 Our bridesmaids wore relaxed colourful floral wrap dresses. I knew what they'd like and it was the first one that I ordered, so it was really easy.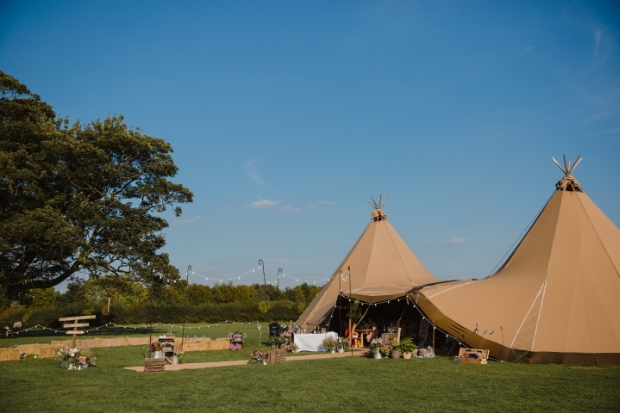 Cattows Farm was the perfect setting for our reception. I loved that we could decorate the tipi however we wanted.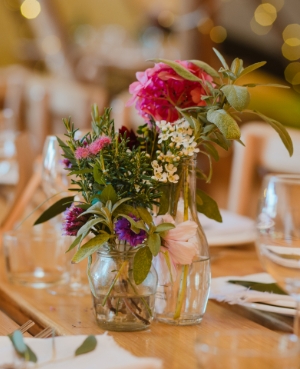 For our centerpieces we filled different sized jars and bottles with flowers and herbs picked from our garden.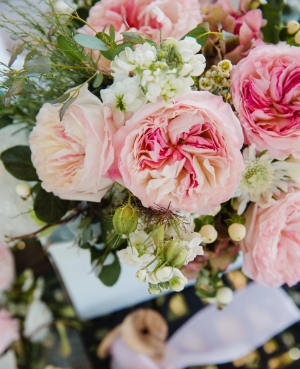 I love David Austin, Keira roses so my bouquet was brimming with them. Our bridesmaids carried smaller versions that looked gorgeous.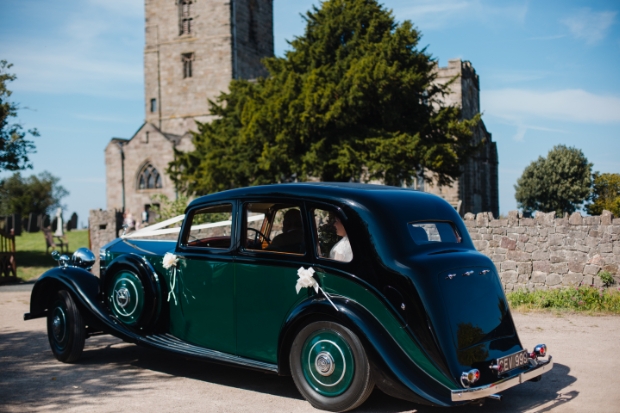 My neighbour owns a stunning old car that he kindly offered to let us use. The journey to the church involved a very steep hill, so the best bit was getting to the top! It was so lovely sharing the experience with my dad.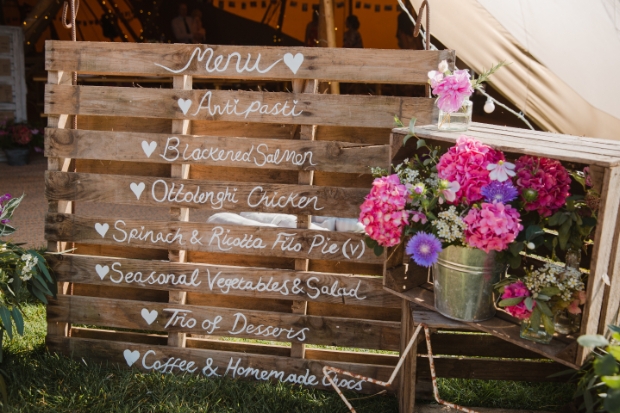 Blooms were the most important thing to me when it came to the décor. The tipi was full of them. We put them everywhere we could think of!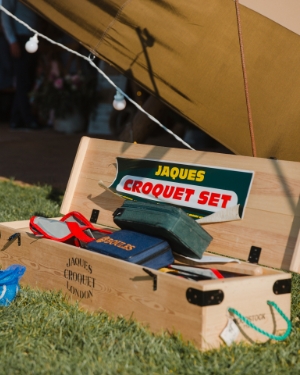 We had outdoor games such as croquet and boules. Everyone got involved as it was such a lovely sunny day.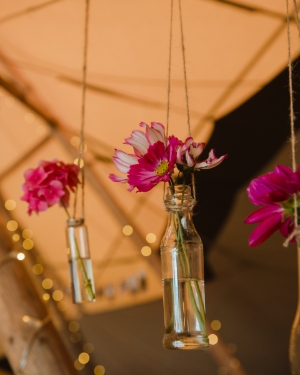 We hung glass bottles from the ceiling of the tipi that were filled with bright flowers.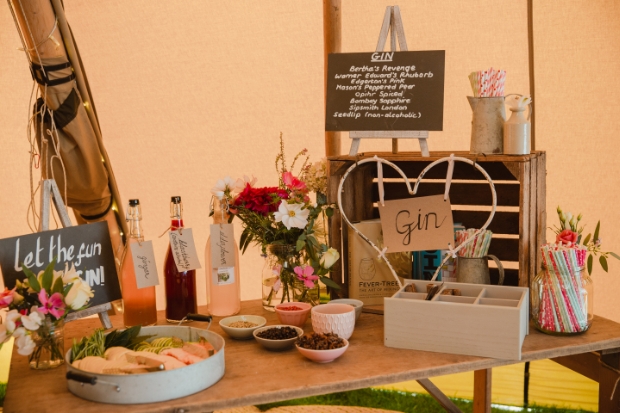 The DIY gin bar was particularly popular. Guests could play a game of boules, mix their own cocktail or just grab a blanket and sit in the sunshine!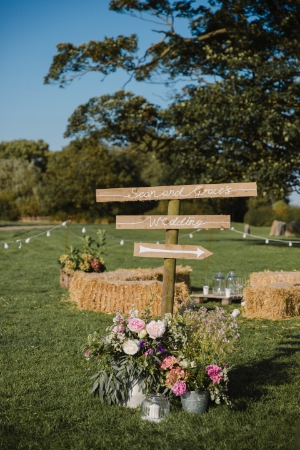 We created a rustic vibe with wooden signage around the tipi and hay bales that we used as seats.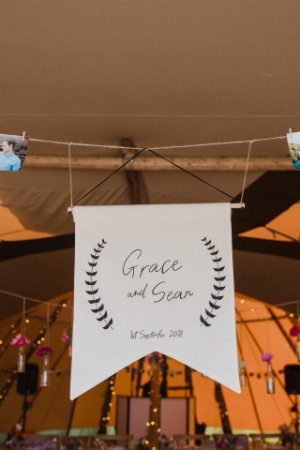 We hung photos of us over the years throughout the tipi.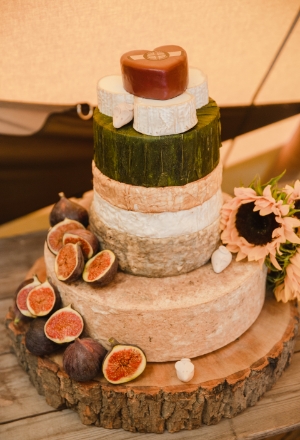 My aunty, mum and I made cakes for the evening so we could have a bit of everything!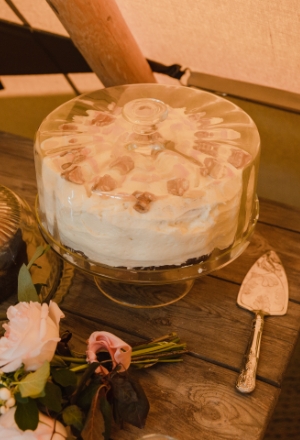 We had a huge cheese tower instead of a traditional cake. It tasted amazing and we were eating it for a while afterwards!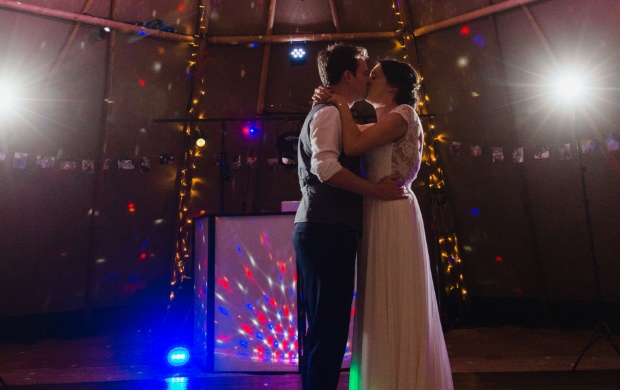 My sister compiled a playlist of our favourite songs for the evening party. Our DJ was great, she really listened to what we wanted.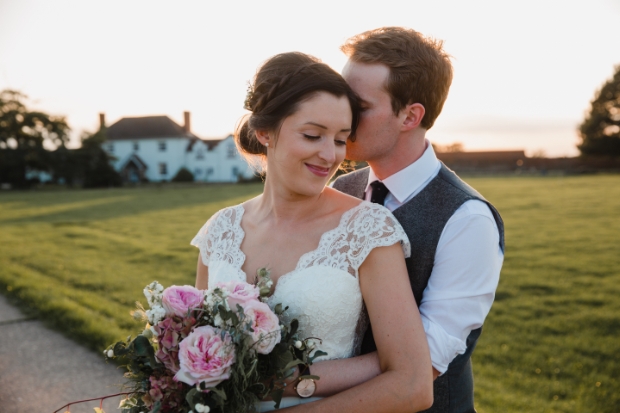 I'd recommend our photographer, Helen King, over and over. There's so much colour and romance in her photos and she loves capturing flowers, which was a big thing for me!
Grace and Sean's contact book