Subscribe
6 printed issues for just £17.60
or 6 eMagazines for just £7.60
<< Back to select another title
Readers will receive a 30ml SEKSY fragrance, worth £25 when they take out a year's printed subscription to County Wedding Magazines.*

Sign up for a year's subscription and not only will you save money on the cover price, you'll also receive a 30ml SEKSY fragrance, worth £25*.

We're delighted to team up with SEKSY to offer our readers either one of its Entice, Embrace or Elegance fragrances, when taking out a year's subscription.

SEKSY Entice – a sweet, fruity fragrance with top notes of apricot, mandarin and blackcurrant. The heart is rich and floral with rose, orange blossom, caramel and jasmine notes. The fragrance finishes with notes of sandalwood, vanilla and amber.

SEKSY Embrace – this glamorous fragrance has top notes of orange blossom, blackcurrant and pear with a rich heart of iris, jasmine and patchouli. Tonka bean, vanilla, praline accord and musk create a deep and opulent finish.

SEKSY Elegance – a floral bouquet of bergamot, mandarin, and champaca leaves lead to a heart of jasmine, rose, sweet pea, violet and sugared orchid. Amaranth wood, blackberry musk and plum add richness and complexity.

Each fragrance is presented in a lavishly designed 12-sided bottle embellished with a Swarovski crystal and a detachable Swarovski charm that can be added to your favourite jewellery. For more information, visit www.seksybeauty.com

All you need to do to claim your fragrance is take out a year's subscription to the magazine.*

*Subject to availability.
* Subject to availability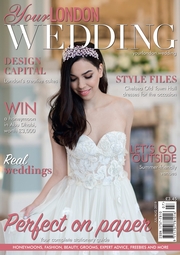 Example current cover
Your London Wedding - Subscription - Printed Subscription
Annual subscription (6 issues)
Save over 15% on normal cover price
Only £17.60
Free Postage & Packing
Includes a FREE eSubscription
---
Your London Wedding - eSubscription
Annual subscription (6 issues)
Just £7.60 per year
Download immediately
Smartphone and Tablet compatible (all types iOS, Android, Windows etc)