Jeanette and David met at work and became a couple after sharing a kiss in the lift at a post-Christmas work party.
They started dating and welcomed their daughter, Hannah in 2012. Five years later, their son William was born. "David proposed to me on Christmas Day in 2017 during dinner and he had taken our five-year-old daughter shopping for my engagement ring!" Jeanette tells us. "It was a wonderful family proposal.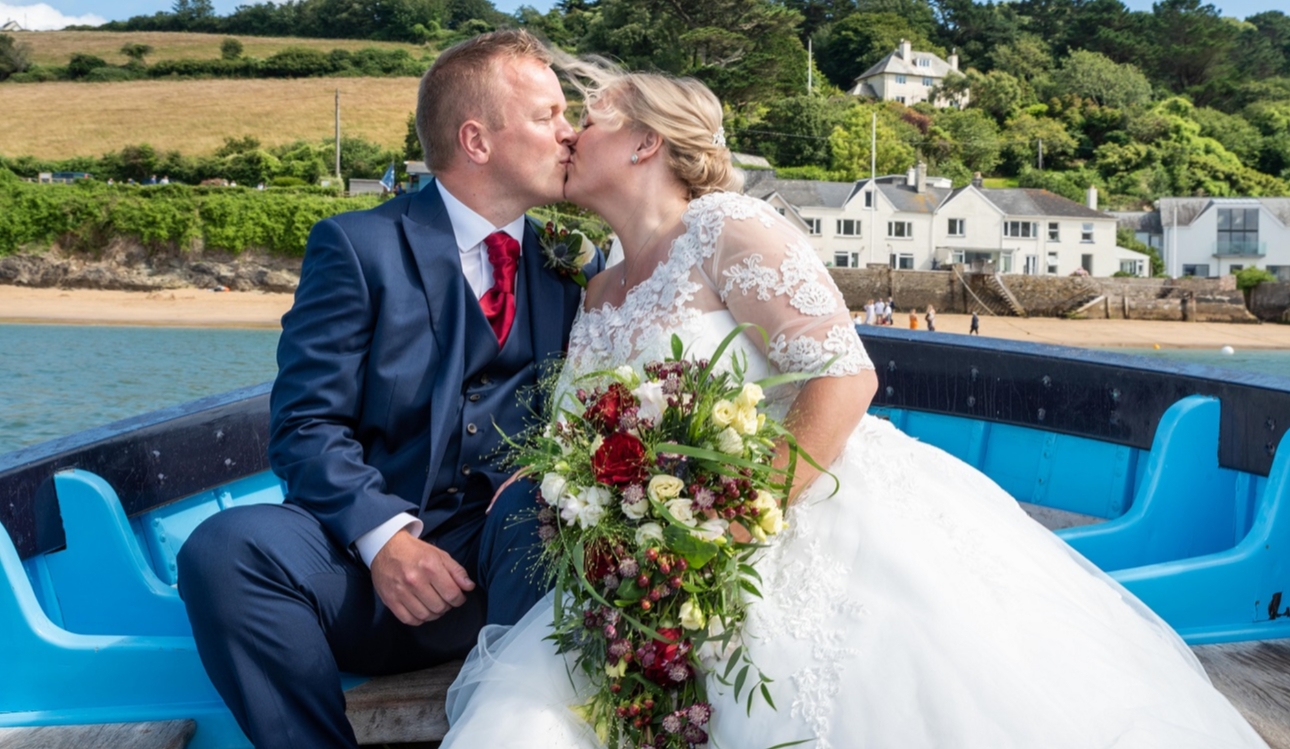 The couple chose Salcombe Yacht Club as their venue and decided on a rustic beachy theme styled with navy, gold, red and cream touches.

Here, Jeannette tells us all about it...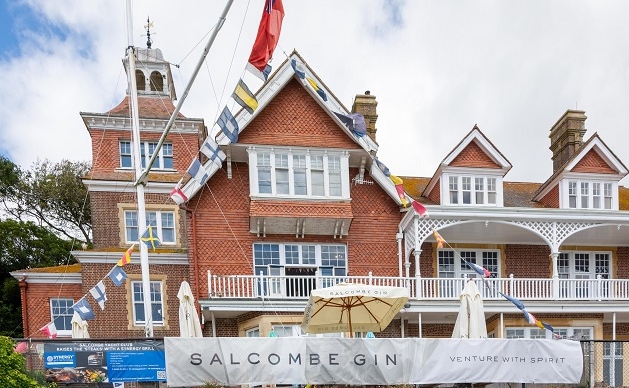 Our wonderful venue inspired our beach rustic theme.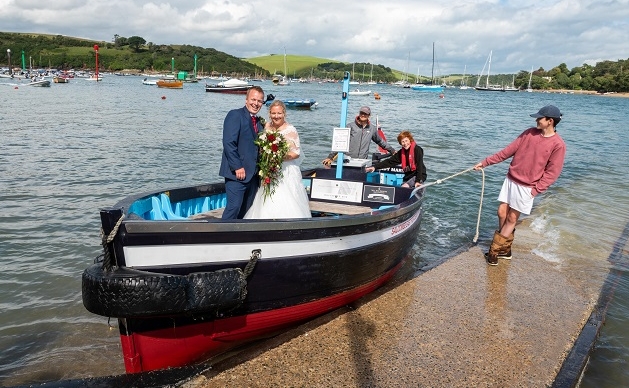 We all enjoyed a ferry ride to East Portlemouth Beach between the ceremony and the wedding breakfast.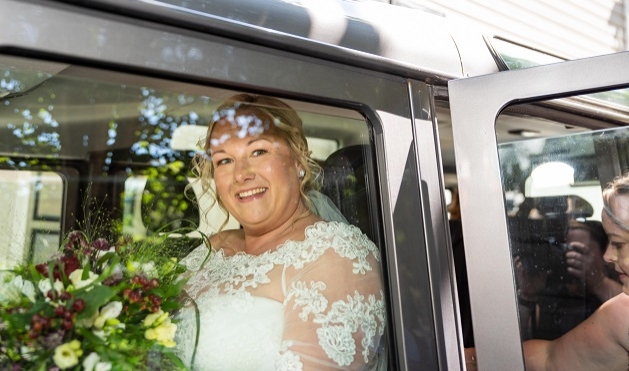 I stayed at the South Sands Hotel the night before the wedding with our daughter. Our bridesmaid, who was David's sister, and my new mother-in-law joined us on the morning of the wedding to get ready.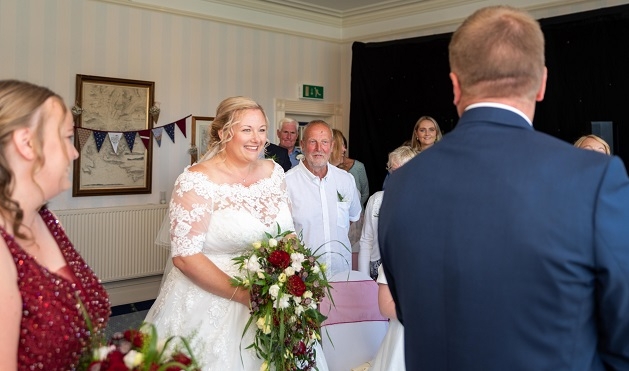 We booked the Chart Room at Salcombe Yacht Club for the ceremony at 2 pm and moved to the terrace afterwards for photographs. Jules at the venue and her amazing team did a wonderful job!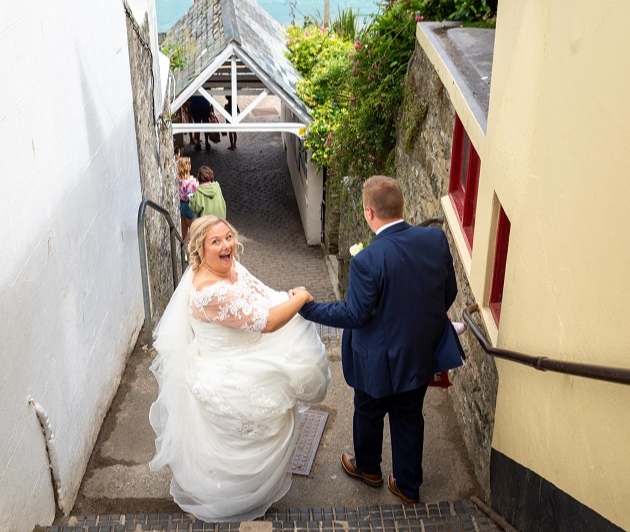 Salcombe is one of our favourite places so we wanted to get married overlooking the water.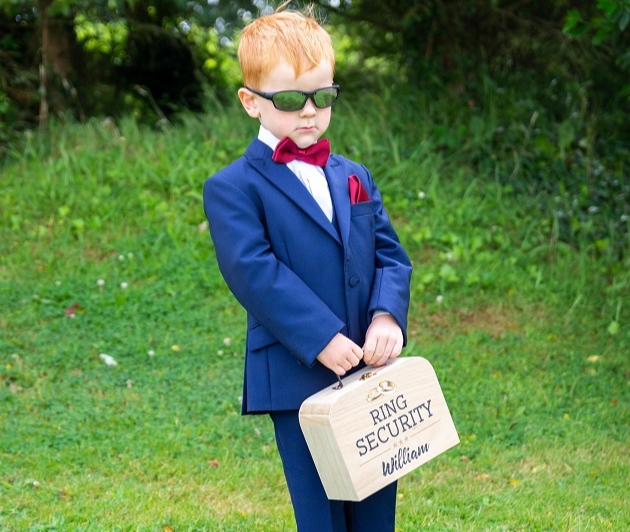 Our son, William, was our pageboy and best man. He was in charge of the ring security box which was so cute!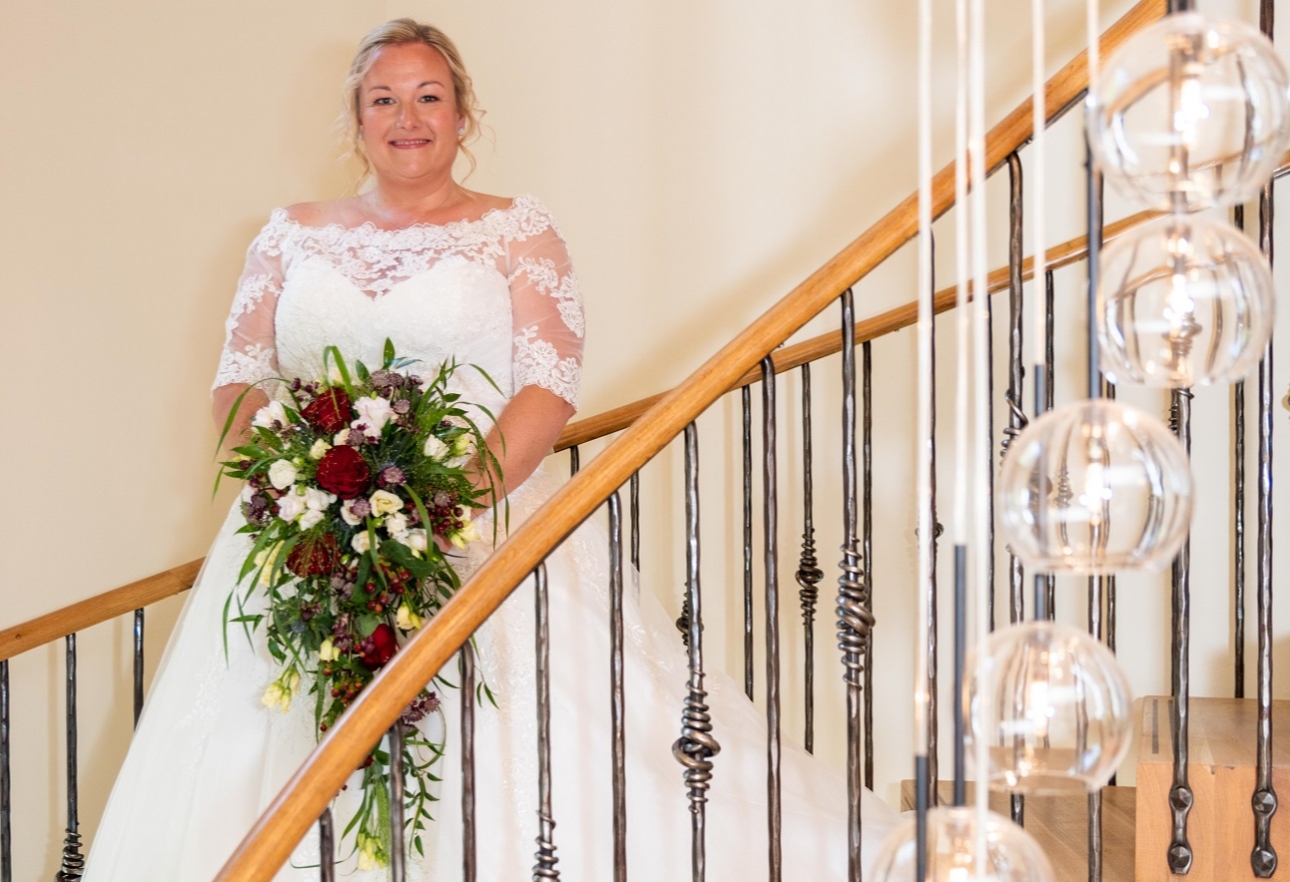 I had a charm containing pictures of family members who are no longer with us in my bridal bouquet. Our talented florist sourced Sweetheart roses especially for us which looked beautiful.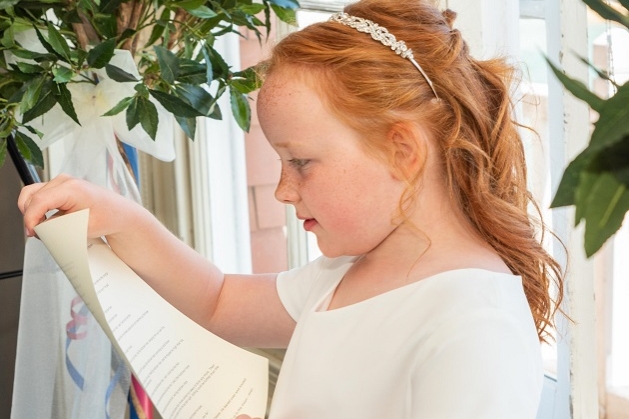 Our daughter was our flowergirl. Having our son and daughter at our wedding was perfect – our daughter didn't want the day to end!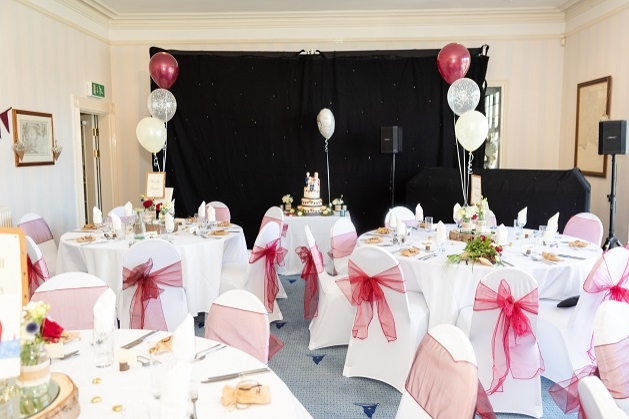 The wedding breakfast took place at 5 pm and then we moved outside where we stayed until the evening which was magical and so romantic.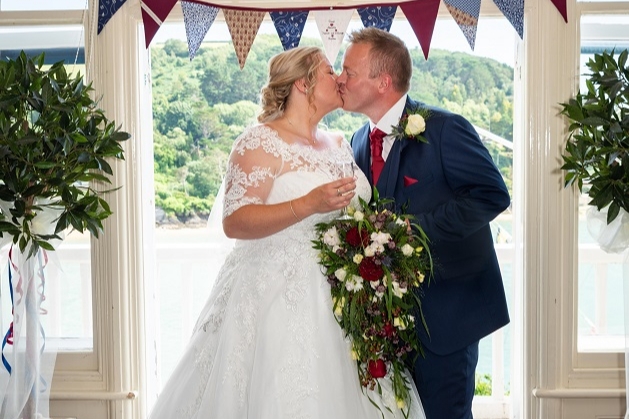 We loved the two bay trees that we used to decorate the ceremony room.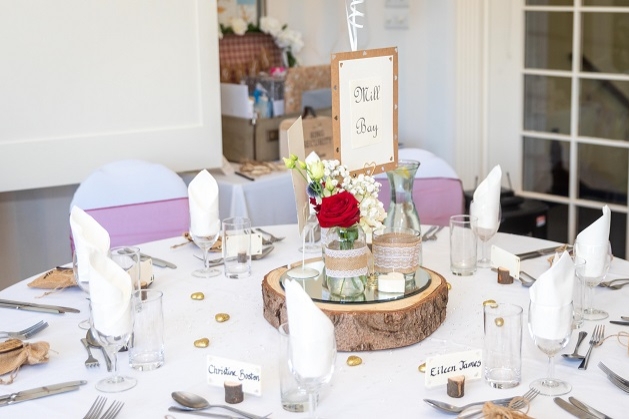 We decorated our day with deep-red, navy, gold and cream-coloured décor.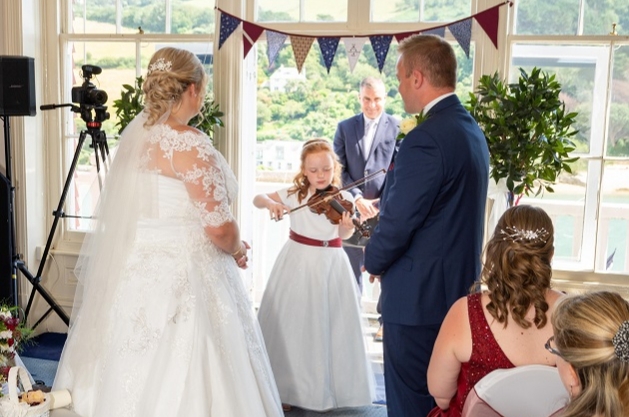 Our personalised bunting was made by my new mother-in-law.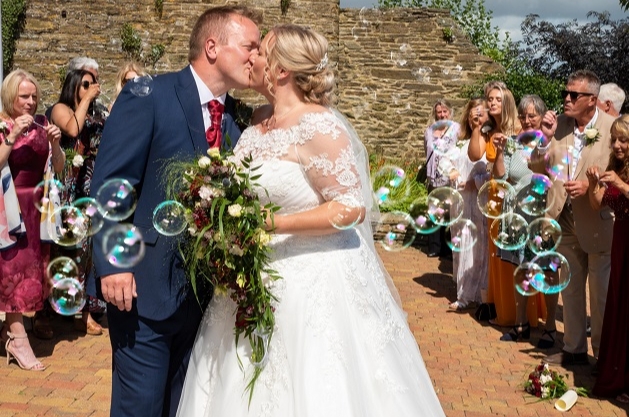 We had bubbles instead of confetti which worked well.

"Have what you want if your budget allows it. Don't be influenced by others and try to be organised – don't leave things until the last minute! Don't underestimate how long things take." – Jeannette and David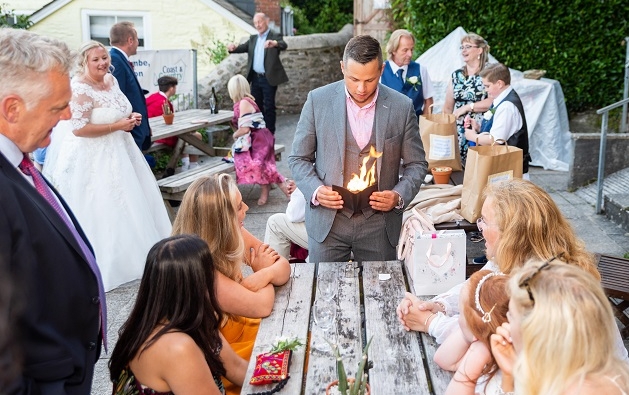 We met the magician Lewis Belcher, who we booked to entertain our guests, and our videographer, Caroline at a wedding fair at Plymouth Guildhall.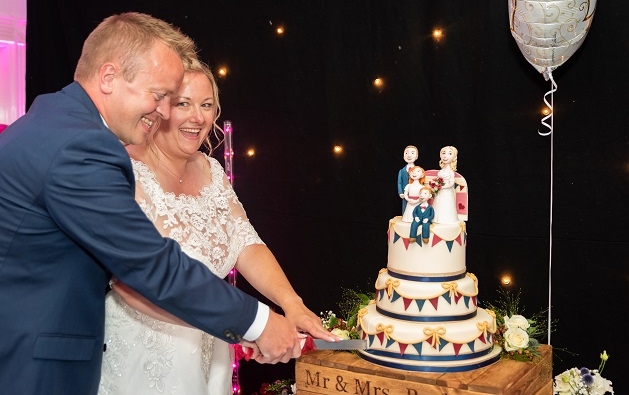 Our delicious wedding cake was made by a family member and we had a topper created that reflected our family!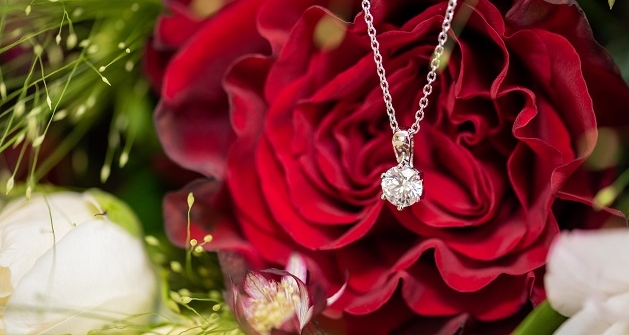 I wore plenty of sparkly jewellery and accessories.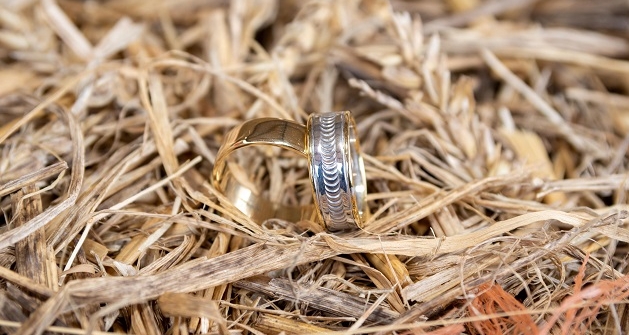 If you want bespoke wedding bands, don't leave this until the last minute!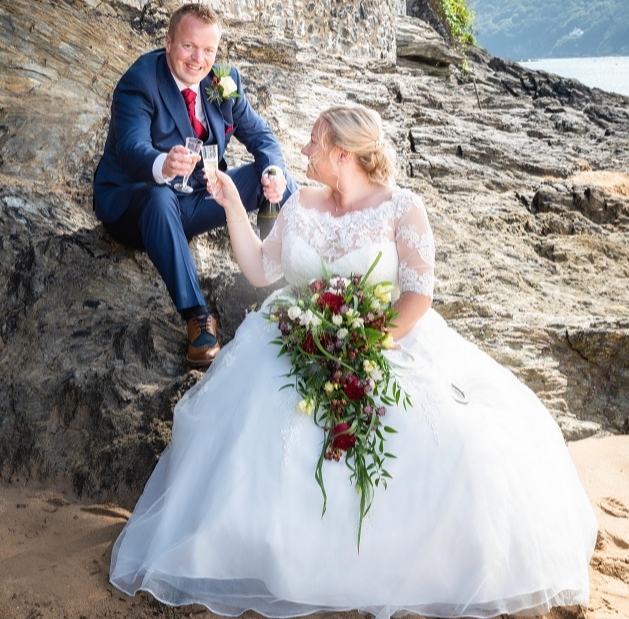 My lace dress featured a corset back and was decorated with crystal detail.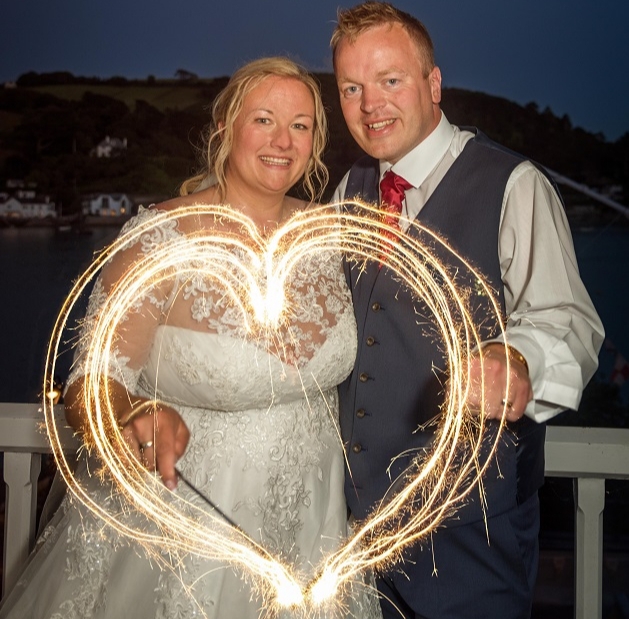 Book a videographer – even if you feel nervous – because they create memories that will last forever. Just forget that the camera is there!
Jeanette and David's contact book