Over one third of Brits would describe their skin as sensitive. But sensitive skin can mean something different to each of us. Perhaps you suffer from unexplained breakouts or dryness, or you might get a more extreme reaction like rashes, eczema, stinging and inflammation?

When it comes to shopping for skincare, you may have felt like you needed a degree in chemistry to understand product labels. As well as ingredients being confusing to decipher, the results of buying and using a wrong product can spell disaster for your skin – only causing more problems rather than working to resolve them.

If you haven't found the products that make your skin truly happy yet, beware that ingredients in products that are labelled for sensitive skin could, in fact, be the very thing irritating your skin. Food and fragrance allergens and other irritants in these products can cause dryness, breakouts or painful redness.

There are over 2 million people in the UK with a diagnosed food allergy, but many more will have food allergies and intolerances that are undiagnosed, simply because it is often difficult to identify without a strict process of elimination.

This uncertainty goes some way to explaining why food and fragrance allergens are often overlooked as a trigger for sensitive skin. Skincare product users just haven't made the connection yet.

There can be so many reasons why your skin feels sensitive. Hormones, the environment we live in, low immunity and even the effects of a pandemic, combined with using harsh products - like scrubs, peeling masks, cleansers and serums - can all contribute to breaking down our natural skin barrier and causing or magnifying sensitive skin issues.

But one factor on the list not many think to consider are the food and fragrance allergens disguised as well meaning ingredients on so many high street products.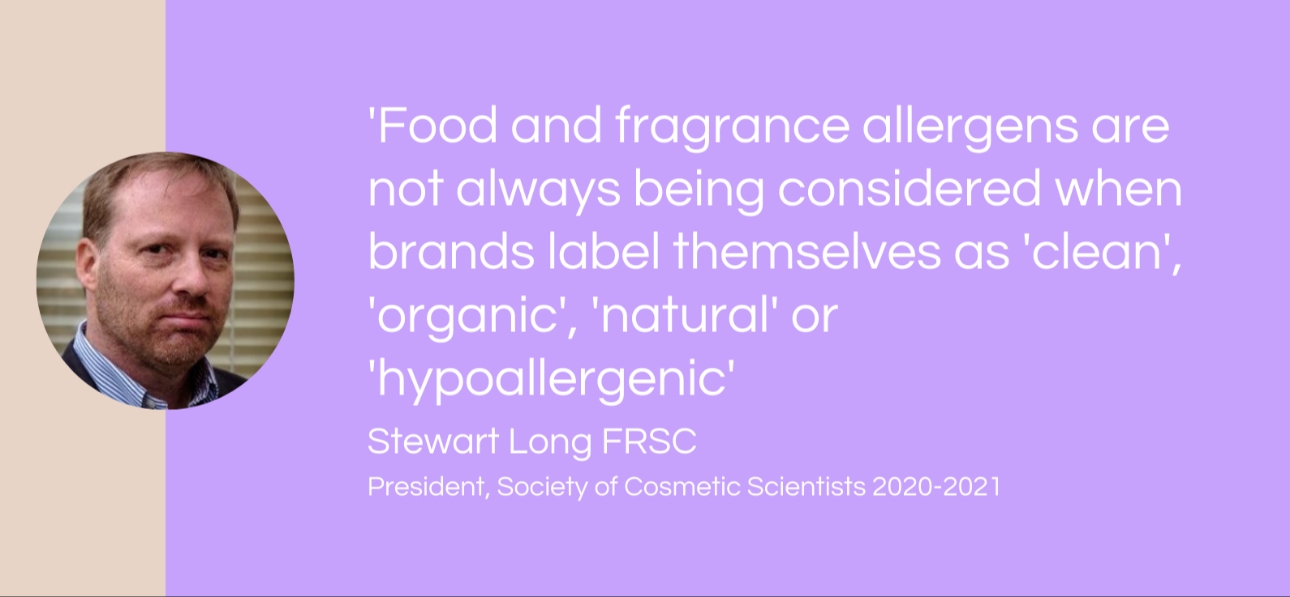 Stewart Long FRSC, President of the Society of Cosmetic Scientists, comments: "food and fragrance allergens are not always considered when brands label themselves as 'clean', 'organic', 'natural' or 'hypoallergenic'. If you are particular about excluding allergens from your skincare formulations, then you should look for 'allergen neutral' products."

"Everyone is different, everyone has different skin triggers. The safest way to ensure that your skincare is good for you is to look for 'allergen neutral' skincare that has excluded as many triggers as possible and has undergone testing on individuals with sensitive skin," Stewart advices.

Oodee is the first Allergen Neutral™ skincare company and is making it their mission to supply all the information you need on choosing which skincare products could be right for you, in one place.

Oodee looked at five beauty retailers Boots, BeautyBay, Cult Beauty, Feel Unique and Space NK, covering all price points, and gathered a list of the ten best selling sensitive skin products under cleansers, moisturisers and serum categories sold by each retailer. This list of products was then analysed to discover how many contained allergens and irritants.

The investigation uncovered some shocking results. Oodee found 96% of the best selling sensitive skin products on main skincare retailers include food and fragrance allergens, or other known irritants.

Of the cleansers tested, 92% of these contained allergens and irritants in their ingredients and serums came in even higher with 96%. But it turns out the type of product containing the most allergens and irritants is moisturisers, with a whopping 100% of the products investigated.

The most common allergens contained in the top selling sensitive skin products are gluten, nuts, fragrance and soy. 75% of all of the products had food related allergens, with 35% containing fragrance allergens.

This is not only a huge issue to those who suffer from an intolerance. For non allergy sufferers, 67% of products contained a known irritant, despite being classed as suitable for sensitive skin.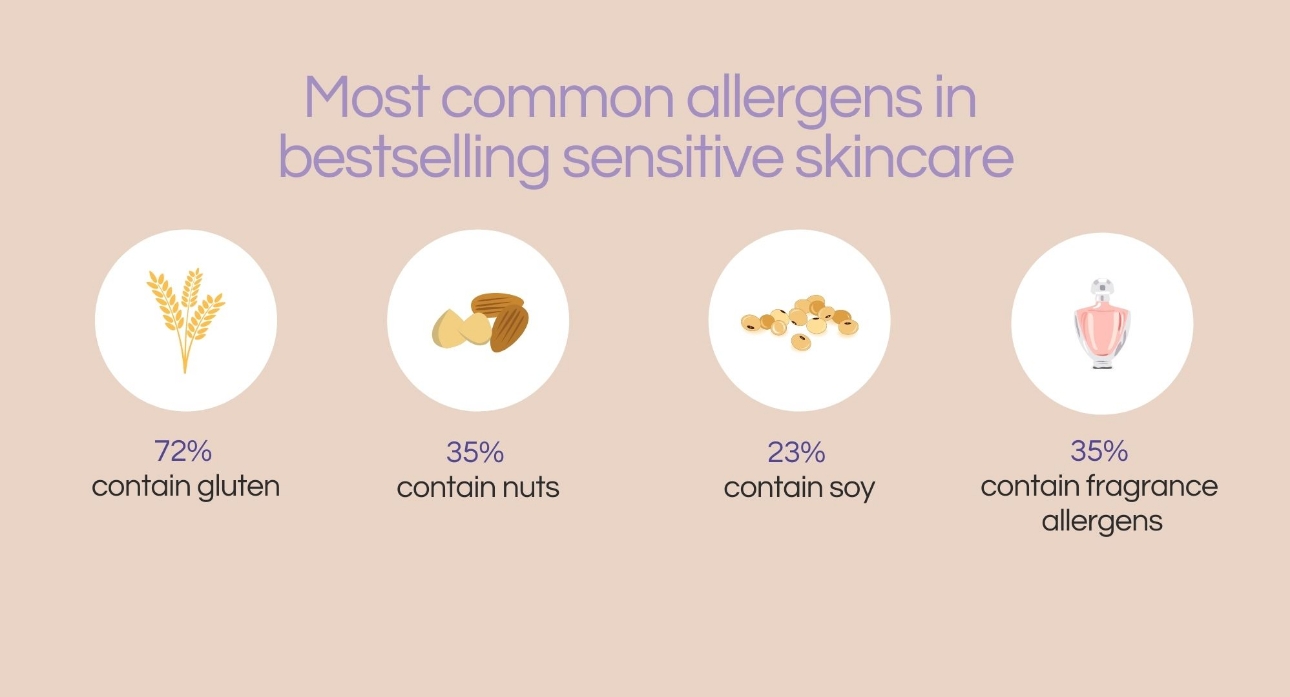 If you have an intolerance of any kind it can be difficult to decipher exactly which products have that ingredient in them. Take gluten as an example. There are over 200 terms for gluten related ingredients and with names such as 'Dimetgicone PEG-20 Acetate Copolymer' which makes it difficult for consumers to know what to avoid.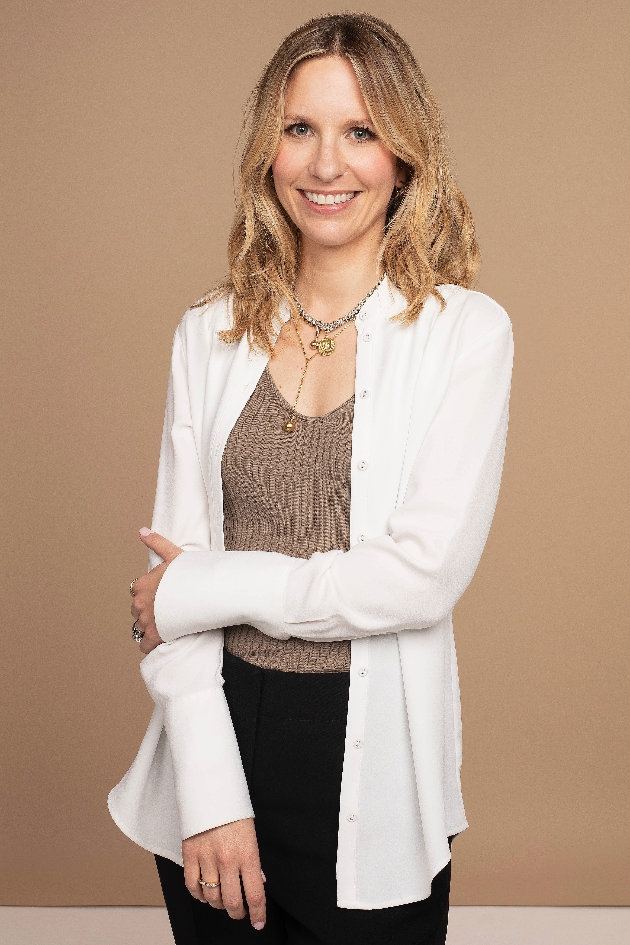 Karen Harwood, co-founder of Oodee, comments: "I spent a decade trying to figure out the cause of my flare-ups, whilst missing out on all the beautiful products I couldn't use. To make it worse, there was no evidence or answers to point me in the right direction, so I was lost in this constant cycle of trial and error.

Speaking of her experience, Kate says "my flare-ups were random and painful; often red and raw, especially around my eyes, which also meant I couldn't use makeup to disguise them. I felt exposed and stressed, and the greatest frustration was that despite having years of experience as a skincare specialist, I couldn't find a solution."

"At the time, people were becoming aware of allergens in their diet thanks to the free-from food movement, but nobody was linking the same triggering ingredients with skincare. I realised that if you wouldn't eat something you're intolerant or allergic to, then why would you put it on your skin?" Kate explains.

Oodee skincare is the world's first Allergen Neutral™, cruelty-free & vegan skincare brand containing skincare products that are safe for everyone to use, including those who suffer from intolerances and may be allergy prone: a group that has been overlooked so far by the beauty industry.

Oodee skincare is the first and only skincare brand to call out food and fragrance allergens and guarantee they will not be found in any of its formulations.