Eight top tips from Carla Opoku, founder of Cienna Rose.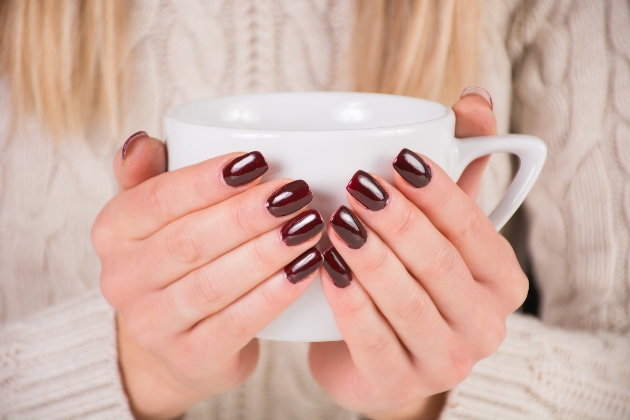 The winter season is especially harsh on the nails so it's vital to take extra care of them. Carla Opoku, founder of Cienna Rose (www.ciennarose.com) says, "Cold weather zaps moisture from the cuticles and nails leaving them dry, brittle, flaky and damaged. Our nails naturally have a low moisture and oil content and therefore, can become worse in winter but there are things we can do to help keep them looking and feeling on point."

Here, Carla shares her top tips for taking care of nails and cuticles this winter.

1. Hydration hit
Use a nourishing hand lotion every day, especially after washing your hands, and apply to damp hands as this locks in more moisture. Look out for formulas that contain ingredients such as aloe vera and oatmeal. These have great healing properties that can also calm and hydrate.

2. Supplement savvy
An inside outside approach can really help. If you have bumpy, ridged nails, I'd suggest boosting your B vitamins. Vitamin B9 can help repair cells and promote overall nail growth. Taking an omega 3 or evening primrose oil supplement can also be beneficial as the fatty acids help to moisturise. Try Together Health's Omega 3, £13.99 for a vegan friendly daily top up or for a supplement that takes care of nails, hair and skin, I'd suggest the Together Health Beautiful, £14.99. These two a day vegan friendly capsules contain 10 beauty specific food-based vitamins and minerals to help boost healthy nail, hair and skin.

3. Nutrition
Protein rich foods such as oily fish (sardines, salmon and mackerel), leafy green veg like kale, spinach and broccoli, nuts and seeds (think unsalted almonds and sunflower seeds) along with beans are essential for healthy nail growth. Antioxidant rich fruits such as blackberries and grapes are great while strawberries and kiwis both have high levels of vitamin C that help produce collagen, which naturally makes nails more resilient.

4. Exfoliate
Nails and cuticles have layers of dead cells that become dehydrated and damaged. Exfoliation helps buff away build-up of dead skin and maintain strength and good health. A great at home rescue remedy uses just two ingredients: two tsp of brown sugar with one tsp of olive oil. Simply mix into a scrub and massage into wet hands. Then rinse. It will leave hands, nails and cuticles super soft and smelling delicious. You can also try the Cienna Rose Brighten Up Cuticle Scrub, £10. It blends nurturing vitamins and oils along with biotin, caffeine and AHA micro particles to expertly buff and brighten.

5. Cuticle care
Your cuticle is the layer of skin at the bottom of your nails and acts as a barrier against bacteria. It's a delicate and sensitive area that can suffer from peeling and flaking. Applying cuticle oil regularly, especially at night time, give dry nails and cuticles a mega moisture boost. They are often enriched with more potent nourishing oils like jojoba, argan and coconut that penetrate deeper and feed the skin and nails. Massage The Elixir, £9.50 from Cienna Rose into nails and cuticles daily. A lightweight oil packed with vitamins B5, E, lemongrass oil and sweet almond oil, it's a brilliant treat for dry and thirsty skin.

6. Buff up
Buffing nails is a good way to keep them healthy and shiny. It helps stimulate the circulation and encourages oxygen, nutrients and growth to the nail surface giving a healthy glow. Regular buffing will also help banish ridges and give nails a smoother surface ready for polish.

7. All about the base
Always wear a base coat, even if you don't have time for a full-on manicure. Applying a hydrating and strengthening base coat can prevent nails from peeling and becoming weak. Make sure however you use a natural formula without any harsh ingredients. Nailberry and Nailkind both have some great vegan and cruelty free base coats or try the Cienna Rose Inner Strength Treatment Base Coat, £10.50 or The Shield, £10.50 which is a base coat and also an instant nail hardening treatment for soft and fragile nails.

8. The revitalising product
Need a product that's going to correct, strengthen, brighten and encourage healthy growth all in one hit? The Cienna Rose Halo is a 2-in-1 treatment, £11, enriched with porcelain flower extract, lime tree extract, yuzu extract, lemongrass oil and vitamins. Simply paint onto nails to fortify, hydrate, hide any imperfections and protect against splitting and damage.

All Cienna Rose enriched nail lacquers and treatment products are natural, cruelty free, vegan friendly and follow a 12 free formula. They also contain vitamins and essential oils to nourish and enhance the nails as well as promote healthy growth.

Check out www.ciennarose.com and keep your eyes peeled for our nail polish Tried & Tested feature in upcoming issues.