When it comes to completing your wedding day look, accessories are a must for most brides. Hair accessories are an ideal way to personalise your style and add that special something. We caught up with Melissa Morris, creator of Make Me Bridal Accessories, to learn more about her brand and how she helps brides pick the perfect piece.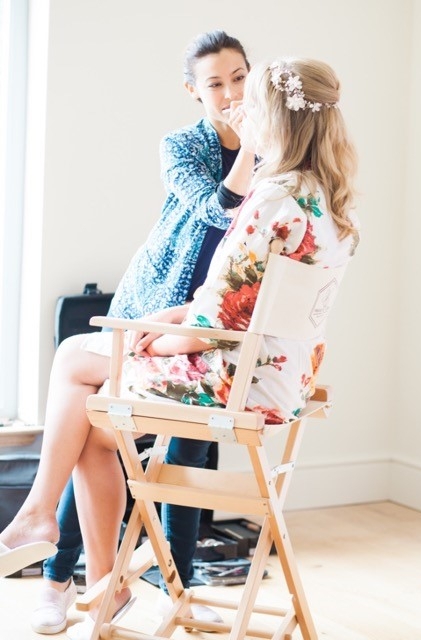 Tell us a little about yourself and how MMBA came to be.

I've been a hair and make-up artist for over eight years specialising in weddings. After a number of hours in the studio creating bridal looks with my clients, I always felt the magic that the right accessories would bring to the final look the minute they were placed in. However, many brides hadn't even thought about how the final look would come together with accessories, this is what inspired me to create a collection to offer them. With an emphasis on being able to help brides choose the perfect accessory for their look, we offer brides a free one-to-one virtual consultation online. Brides also have the option of booking one of our ambassadors, who are handpicked professional wedding hair stylists, who stock our collection, ready to show their bridal clients at their trials.

What's the MMBA vibe?

The MMBA style is modern, feminine, bohemian chic. Our pieces have an emphasis on celestial floral designs with a little bit of sparkle. They're flexible in design, versatile to suit many hairstyles and comfortable to wear. Our brides want an accessory that accentuates their chosen hairstyle, complements their dress and enhances their individuality.

Why are accessories so important for a bride?

They're the details with the power to complete your look by emphasising your personal style. They say something about who you are. For a wedding, flowers also make a beautiful accessory, but they don't last very long, unlike a piece of jewellery that you can keep forever. Hair accessories are a great choice for a bride as they create a pretty focus from many angles, they look great from day to night, and don't clash with the neckline of your dress.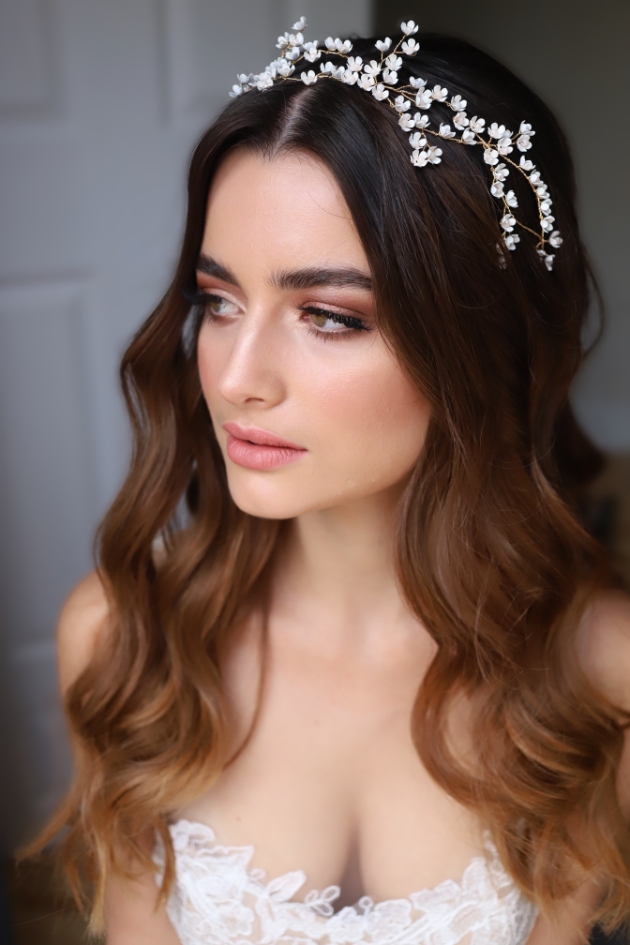 What trends are you seeing at the moment?

Hair pins are very popular with pearl clusters trending. Head bands are also very fashionable, but many brides are concerned about the comfort of wearing one all day, so we recommended a more flexible wired style such as our lily of the valley or our moonflower hair vines.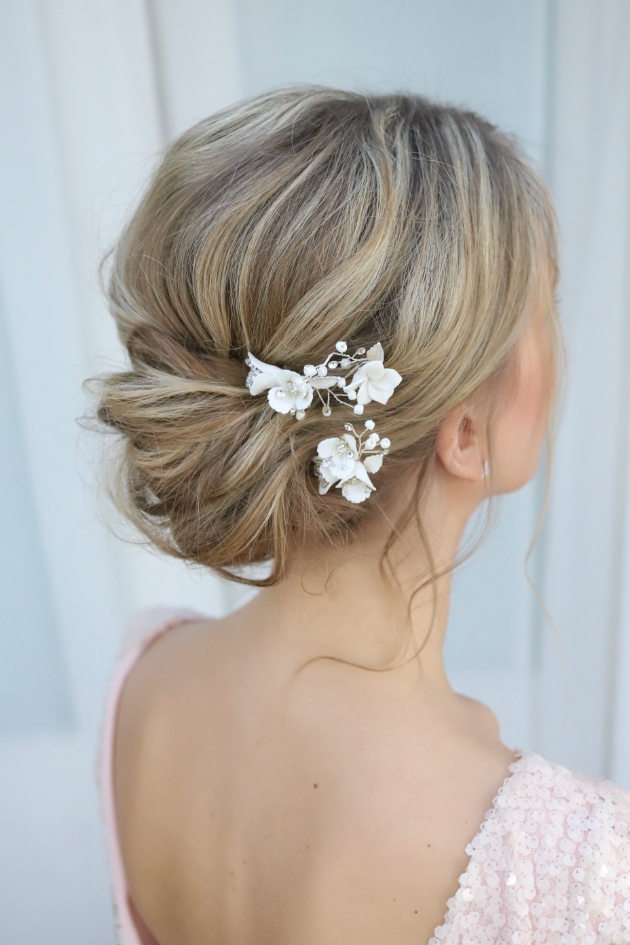 What are your favourite looks?

We love the gypsophila and marigold hair vine and pin set as they are so versatile, comfortable to wear and eye-catching. Worn in a half up half down hair style with the vine round the front and the pins at the back to accentuate the pretty half up twist detail. Our starflower hair pins look incredible placed on the side of chic ponytail or smooth bun, and our tuberose hair pins are a pretty white classic floral option which look stunning in soft undone up dos.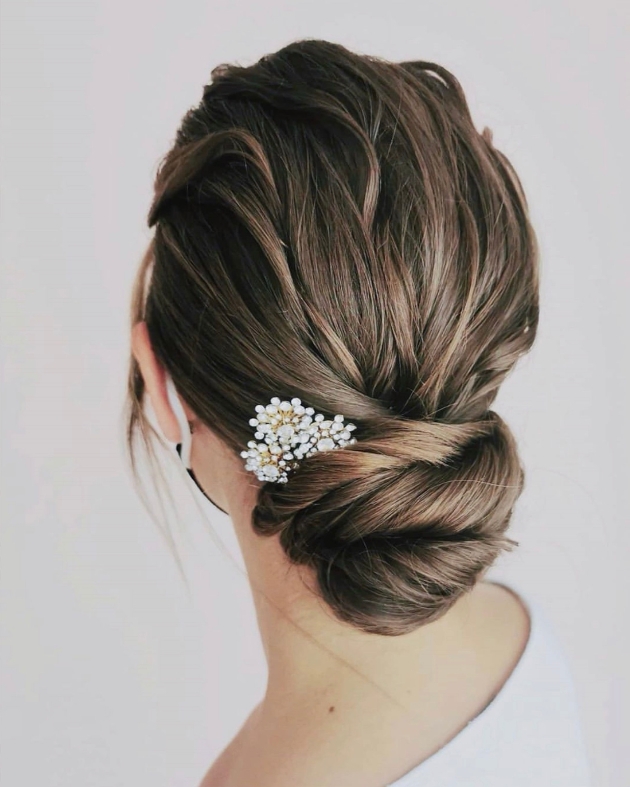 Credit: In The Bridal ChairAs we're heading into the colder months, what would you recommend for a winter wedding?

Celestial and sparkly pieces seem to be more popular in the winter. The starflower hair pins, moonflower hair vine, marigold hair vine and pin set, starleaf hair pins. Also our starburst hair pins which have a slightly Art Deco feel are a great match for a December/January wedding. The gardenia flower pins also have a soft wintery feel with the silver leaves and soft ivory organza flower.

How would you pair accessories with a veil?

The wildflower hair comb is a set of two rustic wild organic flower combs that can be worn as a half flower crown at the back of a down do, as a beautiful stand alone feature. Or the combs can be separated into a large textured bun which would look epic worn with a long cathedral veil.

What does the future hold for bridal hair accessories?

We see more half up styles being twisted up and adorned with beautiful sprays of textured beaded vines. We also see more creative contemporary shapes being designed, to push past the boundaries of pretty flowers and beaded details.

What's next for MMBA?

We're having fun working with our ambassadors to come up with more creative and exciting ways to wear hair accessories and develop a beautiful style guide for brides to get inspired by. We're also excited to be showcasing our whole collection at Boo Bridal Boutique in Hampshire (www.boobridal.co.uk). We look forward to growing our list of stockists with a selection of beautiful bridal boutiques throughout the UK.

For more information on Make Me Bridal Accessories, head over to www.bridal-accessories.co.uk

Interview researched by The Wedding Hair Company, www.theweddinghaircompany.com