We caught up with owner and founder of Simone Thomas Wellness, Simone herself, to discover how taking care of yourself from the inside out is the ultimate path to wedding wellness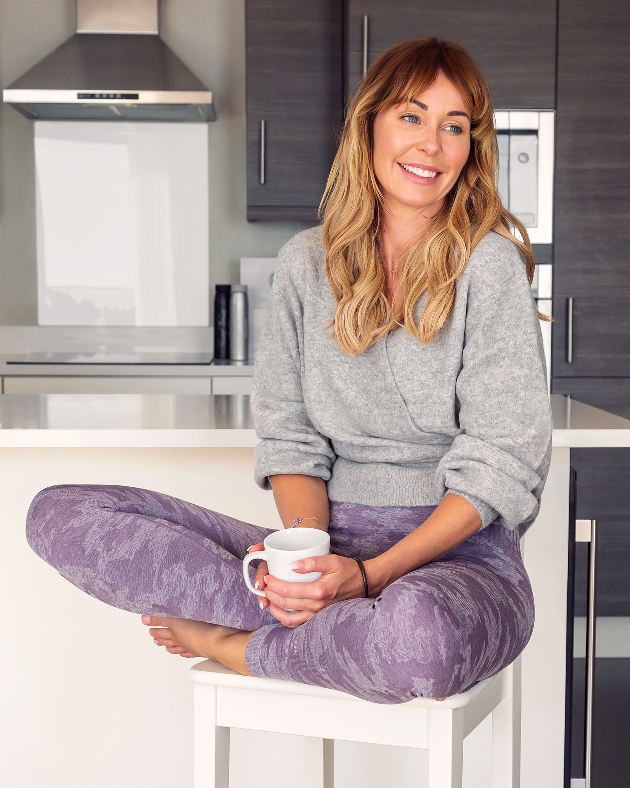 The impact stress and anxiety can have on our bodies should never be underestimated. So, the pandemic has a lot to answer for, even outside of Covid itself. If you're finding that months of lockdown and wedding-related stress have taken their toll, you're certainly not alone. Sadly, anxiety-induced skin concerns and even hair loss can quickly leave you feeling pretty far from your big-day best.

Enter award-winning authority on hair health and wellness Simone Thomas, who's spent her career sharing her expertise in nutrition, hairloss and bio-energetics. Alongside hair salons and hair-loss clinics, which boast an elite global clientele that includes royalty, celebrities and CEOs; she's also the founder of Simone Thomas Wellness. We asked Simone for her help in guiding you back onto the path of wedding wellness.

Based on your experience, what challenges are nearlyweds facing in the aftermath of the pandemic? 2020 had a huge affect on the wedding industry with 64 per cent of big days being cancelled or postponed, which means stress levels for everyone involved are now at an all time high. A wedding is an important day that couples have invested a lot of time and money in, it's something they've dreamed of. So, this is all having a negative impact on how we feel and how we sleep, with our skin and hair responding to that. A bad hair or skin day isn't great at any time, let alone when the camera is constantly on you and you want to feel your best.
It taught us though is how to take a step back and invest in ourselves, as we often don't listen to what our bodies need. At Simone Thomas Wellness, we've seen a huge increase in clients asking for advice on nutrition and bioenergetics, as well as hair loss. There's also been a rise in skin conditions like psoriasis, acne, dermatitis of the scalp, eczema, telogen effluvium and alopecia areata, which is commonly linked to stress and hormones. In fact, stress has a huge knock on effect on our hormones as women. But men too are experiencing skin complaints and suffering hair loss. So, people preparing for their big days have really been struggling during lockdown.

How can we turn this around – where do we start? What I always say is that everything starts in the gut. If you look after that, the body will look after you. I call it The Mothership. Poor gut health is the start of disease and can be linked to degenerative disorders, so it really should be the number one priority if you're looking to feel the best version of yourself. Everyday Wellness, part of the Simone Thomas Wellness range, is a super-strength probiotic supplement containing six types of probiotics to improve gut health by introducing both good and bad bacteria, vital on a day-today basis. When I say "bad bacteria" people often ask me, why anyone would want that, but the body needs diversity to become stronger. These supplements also help to reduce the inflammation that occurs naturally in a body. Food can be a trigger, as can poor sleep patterns, stress, and the environment. Here, we're focusing on removing any nasties so they don't get absorbed into the cells.

What advice would you give to those looking to achieve that natural-looking bridal glow without a face full of make-up? Skin Quencher is great for anyone wanting to feel youthful or who's keen to avoid wearing lots for make-up. It'll work from the inside out to give you that ultimate bridal glow. I'm also a huge fan of facials, but it's more about what we put into our body rather than what we put on top of it. You have to work on yourself internally for the outside to glow. Yes, skincare products are going to have an effect, but if the inside isn't right, it won't be long term. Biotin Brilliance too helps with mild skin irritation caused by stress. You may already have heard about biotins, they're a B vitamin and have been talked about for a number of years as being vital for healthy skin, hair and nails.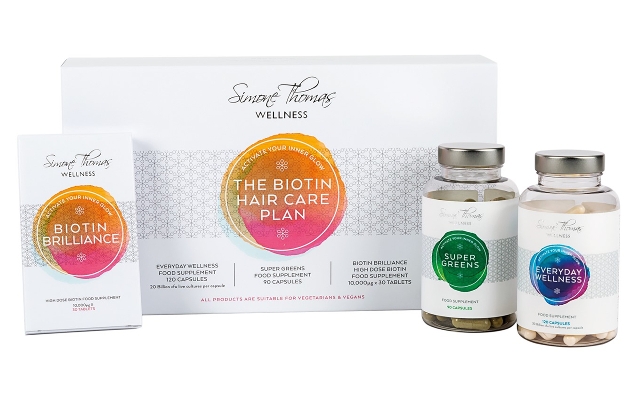 What can you suggest for brides, and bridesmaids, looking to grow their hair for a wedding? Our Ginkgo Biloba B+ plan contains folic acid with essential B vitamins and biotin, but if you don't suffer from tiredness, then the biotin haircare plan is great for maintenance. Alternatively, if you have no specific worries about hair loss, but want to feel the best version of yourself, taking no chances with stress, Skin Quencher is great too. These plans are also great for grooms concerned about hair loss.

What are the benefits of a haircare plan versus a single supplement? I formulated the plans because I learnt from experience that most people's concept of what's healthy actually isn't. Most of us will happily invest in skincare and clothes, but not in how we feel internally. I think of the plans as a three-step process, much like a garden. To grow beautiful flowers, you need sunlight, amazing soil, and water. So, the probiotics are the ultimate go to, but there's no point if you're a fan of microwave meals or Macdonald's. Unless you cook from scratch, you're throwing away the goodness you're putting into the body with the probiotics. Pairing them with Super Greens and Ginkgo Biloba B+ or Biotin Brilliance is then all about preparing the gut, balancing the body and removing toxins, as well as making sure you create the best environment for vitamin and mineral absorption. The most important step though is water: filtered versus tap, glass bottle versus plastic. Purely because of what can be absorbed through plastic as well as unfortunately what's in mainstream water that comes through the tap.

When would be the ideal time to start taking supplements in order to feel wedding-ready? To me there's never a day too early! Most couples will start planning a year to two years in advance, so why not use the same timeline to start working on yourself? You don't have to go all out, but you might start looking at a nutrition plan, exercising or having hydra facials. However, I fully recognise there may be financial restraints, so this might not always be possible. In which case, I'd say three months is optimal, but the minimum is six weeks in advance. This way there's time to flush out any nasties and create balance allowing the body to become stronger and progress. Many tell me they start to see a difference within two weeks.

Tell us a bit about the company's ethos. Supplements are a big industry, but they've often received bad press because the products simply don't do what they claim to. So, these are all things we've addressed across everything we do from the ingredients to manufacturing. We make sure that every process has full certification, including soil association and vegan accreditation. We've worked hard to ensure our products are vegan and our marine collagen is protected and sourced ethically. Everything is sustainable as much as possible. When our bottles are finished with they get made into tiles and flooring, and the packaging too is eco-friendly. Even the energy used in my office is renewable. We're proud of the fact that recently we were responsible for 25 trees being planted in the rainforest due to our renewable energy contract.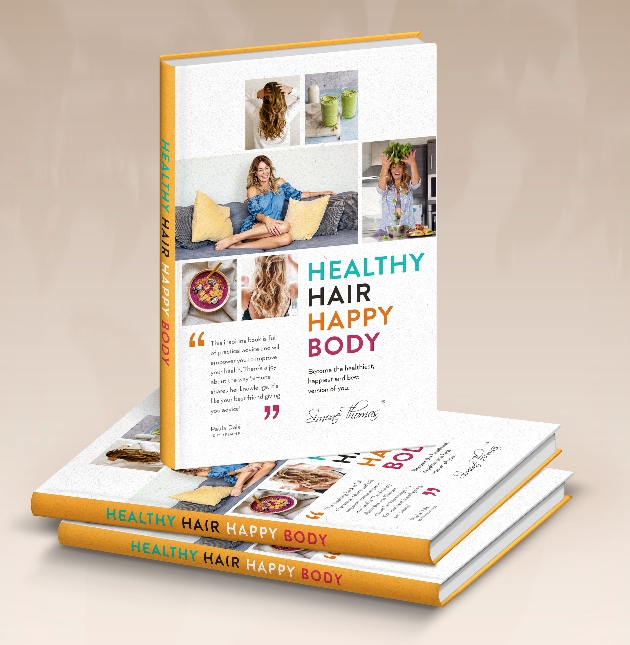 WANT TO KNOW MORE?
Simone's book, Healthy Hair Happy Body, contains her comprehensive and motivational plan to transform wellbeing from the inside out. In each chapter she introduces concepts that provide insight into how the body functions, and what really makes a difference to achieving optimum health, sharing how tiny adjustments over time can lead to better results. It's available at www.amazon.co.uk, priced at £15, with £1 going to Motor Neurone Disease Association.

The Biotin Haircare Plan, £70; The Ginkgo Haircare Plan, £70; and SkinQuencher, £35 by Simone Thomas Wellness, are all available at https://simonethomaswellness.com