Find your wedding services - Accessories

Melita
57 High Street, Chobham, Surrey GU24 8AF
Telephone: 01276 856308
Email: melita@melitaboutique.co.uk
Web: Click here to visit website

Company Profile:
Melita of Chobham is a one stop shop for Mother of the Bride/Groom. We carry the largest selection of occasion wear in Surrey along with matching hats, fascinators and shoes and handbags. Visit our website to see the fabulous collections that we have on offer.
Product Categories:
Accessories, Ladies' Formal Wear, Mother of the Bride
---
Product Category: Accessories
Product Name: Hats and Fascinators
Description: At Melita of Chobham you will always find a vast choice of Hats ,Hatinators and Fascinators.

We endeavour to be able to match any colour the customer requires from our varied selection of milliners.

Each milliner has their own signature look so you can ensure to find a style to suit.

We also sell the hats that have been specifically designed to co-ordinate with some collections for example John Charles or Condici.

Shoes
We also carry Lisa Kay and Elegante shoes and handbags to complete the total look
---
Product Category: Ladies' Formal Wear
Description: At Melita we realise that for the mother of the bride or groom this is such an important day in their lives and we are there to guide and make the experience stress free and enjoyable. Our aim is to provide a comprehensive selection of stock from the world's best occasion wear designers including Condici, John Charles, Luis Civit and many more , in a relaxed friendly atmosphere with as much or as little advise that the individual customer requires to find their unique outfit.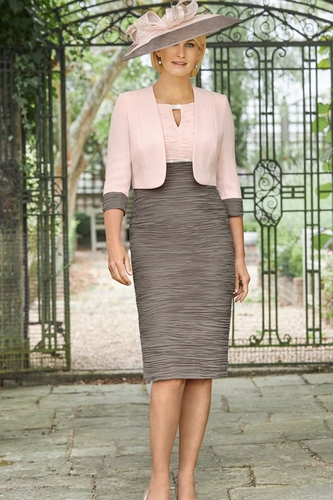 ---
Product Category: Mother of the Bride
Description: For every Mother of the Bride and Groom the wedding day of their daughter or son is probably one of the most memorable days of their lives although it is extremely exciting for some ladies choosing a wedding outfit can also be rather a daunting task. It is a fact that after the bride all eyes will be on the next two most important ladies - the Mother of the bride and groom.

At Melita of Chobham our reputation goes before us for carrying the largest most varied selection of top designer occasion wear collections in Surrey and surrounding areas along with first class friendly service. We have over 30 years experience of helping ladies who travel from far and wide to choose the outfit of their dreams. Our dedicated staff are there to guide you through our exquisite outfits and offer you as little or as much advise as you require. The most important aspect when choosing your outfit is to find a style that fits and flatters your figure to ensure comfort and confidence on the day. With this in mind it is of no surprise that much of our business is built on recommendations from satisfied customers some examples of this you can read in our testimonials.
---