Subscribe
6 printed issues for just £17.60
or 6 eMagazines for just £7.60
<< Back to select another title
Readers will receive a Shearer Candles' bundle, worth £32 when they take out a year's printed subscription to County Wedding Magazines.*

Sign up for a year's subscription and not only will you save money on the cover price, you'll also receive a fabulous bundle from Shearer Candles' new Summer Fayre range, worth £32*. Shearer Candles is a leading creator and purveyor of artisan candles and scented products. Established in 1897, Shearer Candles is the UK's longest established lifestyle candle manufacturer working with only the purest ingredients. For more information, visit www.shearer-candles.com

New for 2018, Shearer Candles has launched a fabulous Summer Fayre range inspired by favourite summer tastes, available in large scented tin candles.

CWM is delighted to team up with Shearer Candles to offer readers a very special gift – a fabulous bundle from the Summer Fayre range including:

Pink Prosecco − sparkling pink grapes lifted with fizzy notes of crisp apple and a hint of raspberry

Mint Lemonade − refreshing, fizzy and zesty with lemon slices and a hint of spearmint

Cherry Bakewell − juicy cherry, raspberry and strawberry with fondant icing and almond cake

Raspberry Ripple − rich, cool, raspberry ripple ice cream, smothered in raspberry jam

All you need to do to claim your gift set is take out a year's subscription!
* Subject to availability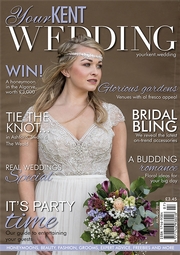 Example current cover
Your Kent Wedding - Subscription - Printed Subscription
Annual subscription (6 issues)
Save over 15% on normal cover price
Only £17.60
Free Postage & Packing
Includes a FREE eSubscription
---
Your Kent Wedding - eSubscription
Annual subscription (6 issues)
Just £7.60 per year
Download immediately
Smartphone and Tablet compatible (all types iOS, Android, Windows etc)