Subscribe
6 printed issues for just £17.60
or 6 eMagazines for just £7.60
<< Back to select another title
Readers will receive a fabulous bundle from Pro Teeth Whitening, worth £30 when they take out a year's printed subscription to County Wedding Magazines.*

Sign up for a year's subscription and not only will you save money on the cover price, you'll also receive a fabulous bundle from Pro Teeth Whitening, worth £30.

Pro Teeth Whitening provides high-quality, safe and effective teeth whitening products at affordable prices. All products are made from the finest natural ingredients and suitable for vegans and vegetarians.

Check out www.proteethwhitening.co

County Wedding Magazines is delighted to team up with Pro Teeth Whitening to offer readers its premium 14-day teeth Whitening Strips and new activated charcoal whitening toothpaste. The strips are formulated to safely whiten teeth using activated charcoal which helps remove stains and gently whiten teeth. The peroxide-free formula offers professional results in just 30 minutes without causing sensitivity.

When used twice a day, the toothpaste helps polish the surface of your teeth to significantly whiten and brighten your smile. activated charcoal absorbs tannins found in tea, coffee and red wine, all of which stain the teeth. The toothpaste also helps reduce bad breath bacteria, food stains and keep plaque at bay!

All you need to do to claim your gift set is take out a year's subscription!
* Subject to availability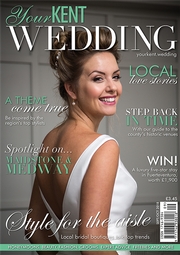 Example current cover
Your Kent Wedding - Subscription - Printed Subscription
Annual subscription (6 issues)
Save over 15% on normal cover price
Only £17.60
Free Postage & Packing
Includes a FREE eSubscription
---
Your Kent Wedding - eSubscription
Annual subscription (6 issues)
Just £7.60 per year
Download immediately
Smartphone and Tablet compatible (all types iOS, Android, Windows etc)