Subscribe
6 printed issues for just £17.60
or 6 eMagazines for just £7.60
<< Back to select another title
Readers will receive a luxurious Yankee Candle set worth £11.99 when they take out a year's printed subscription to County Wedding Magazines.*

Sign up for a year's subscription to Your Kent Wedding and not only will you save money on the cover price, you'll also receive a luxurious candle set worth £11.99*.

Established in 1969, Yankee Candle has grown to become the most recognised name in home fragrance. In fact, it proudly offers the largest and most compelling selection of scents and accessories – is it any wonder it's the world's best-loved candle and makes such amazing wedding gifts? To see more, visit www.yankeecandle.co.uk

Yankee Candle is proud to present this gift set; each one contains a Happy Spring votive candle full of the delightful scent of white blooms, Jelly Bean, which will bring you straight back to your childhood, and Vanilla Cupcake that brings the irresistible scent of home baking to life. You'll also get a clear votive holder to enjoy your candles. All you need to do to claim your gift set is take out a year's subscription with County Wedding Magazines.
* Subject to availability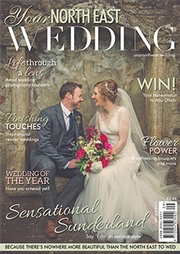 Example current cover
Your North East Wedding - Subscription - Printed Subscription
Annual subscription (6 issues)
Save over 15% on normal cover price
Only £17.60
Free Postage & Packing
Includes a FREE eSubscription
---
Your North East Wedding - eSubscription
Annual subscription (6 issues)
Just £7.60 per year
Download immediately
Smartphone and Tablet compatible (all types iOS, Android, Windows etc)